Dirs: Su Chao-Pin, John Woo. China. 2010. 117mins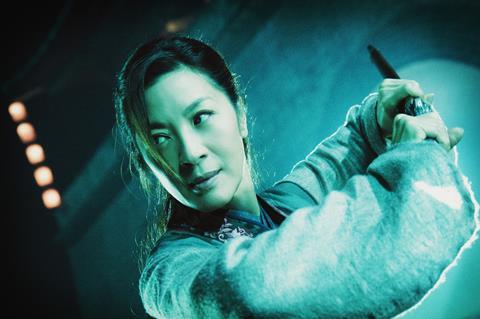 As a action-packed tale of martial arts revenge and killings, the impressively staged Reign of Assassins certainly delivers the goods in stylish fashion. It might lack the sheer visual poetry of Crouching Tiger, Hidden Dragon, but its scenes of sword-play are wonderful and once the story gathers momentum it is absorbing and entertaining.
Michelle Yeoh remains a wonderfully charismatic talent, aging gracefully but still retains a poise and style that really sets her apart.
The film may well be mainly directed by Su Chao-Pin (the on-screen credits list John Woo as co-director, along with Stephen Tung-Wai as action director), but the John Woo link gives the film an extra boost of action credibility, especially after his recent success with Red Cliff. The luminous presence of Michelle Yeoh in the lead also helps point to a film that could have theatrical potential in a number of territories, and a home entertainment berth in many others.
As is often the case with Chinese martial arts films, an overly complex on-screen explanation tries to scene-set. It seems it is a time of inter-clan warfare, and a gang of assassins known as The Dark Stone plan to steal the remains of a Buddhist kung fu master monk whose long buried remains had been cut in half. It seems whoever brings the two parts together will control kung fu.
The top female assassin Drizzle (Kelly Lin) wants to start a new life and plans to return one half of the remains to the monk's tomb as a way of atonement. She undergoes facial surgery, and changes her name to Zeng Jing (now as Michelle Yeoh) and settles in the capital as a low-key shopkeeper.
She falls in love with and marries messenger Jiang Ah-Sheng (Jung Woo-Sung), but their peaceful life is threatened when the remaining Dark Stone assassins track her down in search of the remains. She is forced to fight her old comrades, but to her surprise her mild-mannered husband is not the man he seems, and the scene is set for a blistering all-action climax.
The facial surgery notion is rather similar to John Woo's actioner Face/Off, while the husband-and-wife killers with secret identities sites alongside recent Hollywood films such as Mr And Mrs Smith and Killers, but Reign Of Assassins is resolutely a traditionally styled wuxia style martial arts movie.
Michelle Yeoh remains a wonderfully charismatic talent, aging gracefully (her Drizzle character asks for her new face to look older) but still retains a poise and style that really sets her apart. She is wonderful in the impressively staged action scenes, and has a unique stillness and elegance that makes her extremely watchable.
Korean actor Jung Woo-Sung is charming as her seemingly naïve husband, while Taiwanese singer Barbie Hsu is striking as Turquoise, the young female sword-fighter recruited to take Drizzle's place in the band of assassins. John Woo's daughter Angeles Woo also crops up in a brief cameo as a rival assassin.
Production companies: Beijing Galloping Horse Film & TV Production, Media Asia Group, Zhejiang Dongyang Dragon Entertainment Venture Investment Co., Gamania Digital Entertainment, Lumiere Motion Picture Corp., Beijing Heguchuan TV & Film Co., Lion Rock
International sales: Fortissimo Films, www.fortissimofilms.com
Producers: John Woo, Terence Chang
Screenplay: Su Chao-Pin
Cinematography: Horace Wong
Art director: Yang Baigui
Editor: Cheung Ka-Fai
Music: Peter Kam
Main cast: Michelle Yeoh, Jung Woo-Sung, Wang Xueqi, Barbie Hsu, Shawn Yue, Kelly Lin, Guo Xiaodong, Jiang Yitan