Mat Whitecross's sex&drugs&rock&rollis the latest UK film to draw on the territory's musical heritage for inspiration. Sarah Cooper looks at how the project came together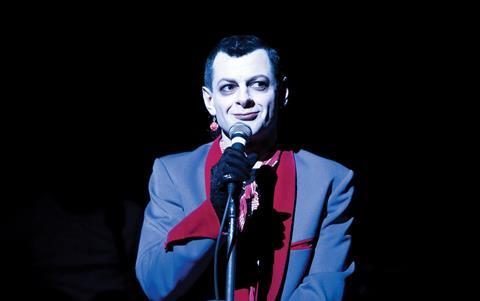 The idea of making a film about late British pop legend Ian Dury first came to UK producer Damian Jones as he flicked through an old copy of The Face magazine on Christmas Day 2007.
"I wanted to do a film set in the British music scene and came across Ian, of whom I'd been a fan," recalls Jones, whose credits include Adulthood and The History Boys through his company DJ Films. "He wasn't the most obvious, and therefore I thought he was the most interesting."
Coincidentally, actor-turned-writer Paul Viragh had the same idea and already persuaded his old friend, Andy Serkis, to play Dury. Jones decided to collaborate rather than compete.
The aim was never to make a straight biopic. Viragh, writing his first feature script, pieced Dury's life story together from tales told to him by the singer's family. Viragh compares the type of film he set out to make to Scott Hicks' Shine: ostensibly a film about a musician but as much an examination of his relationship with his father, "with some funk and rock 'n' roll and polio thrown in," says Viragh of sex&drugs&rock&roll.
The life behind the music
Focusing on his relationship with his family, the film charts Dury's life from his debilitating contraction of polio as a boy, through his rise to fame with band The Blockheads in the 1970s.
To direct, Jones hired Mat Whitecross who began his career as a runner at Revolution Films before directing feature docu-dramas such as The Road To Guantanamo (with Michael Winterbottom).
"I was a fan of Mat's already and we were in talks on another project, but when it fell through I persuaded him to do this," says Jones.
The 31-year-old Whitecross admits he was not particularly a Blockheads fan. "I didn't know that much about Ian, other than a couple of his songs like Hit Me With Your Rhythm Stick, because he's not very well known to our generation," he says.
Jones believes this worked in the film's favour. "The fear was that between Paul, myself and Andy we would make a boring homage which would only be interesting to his fans. Mat brought an objectivity to the subject," says Jones.
Sex&Drugs received around a third of its $3.2m (£2m) budget from the UK Film Council's New Cinema Fund. "We had been tracking Mat for years and I had worked with Damian on Adulthood," says fund head Lenny Crooks. "When I heard that Andy Serkis, who is probably the only actor in Britain who could play the role of Ian Dury, had come on board, it was the icing on the cake."
The rest of the budget was made up by private film investor Prescience, as well as equity from UK post outfit LipSync and a UK pre-sale to Entertainment Film Distributors. The film also qualified for the UK tax credit which was cash-flowed by UK private investor Aegis, which also provided gap financing.
"When Nigel [Green, co-owner of Entertainment] came on board, that solidified the funding overnight. The UK Film Council stepped up and the rest followed," says Jones.
"When I heard that Andy Serkis had come on board, it was the icing on the cake."

Lenny Crooks, UKFC
Serkis' co-stars include Ray Winstone as Dury's father, Bill Milner as his son, Olivia Williams as his wife, Naomie Harris as his girlfriend and Toby Jones as his tyrannical schoolmaster. The film shot in and around London for five weeks in May 2009.
Jones secured the music rights to the Blockheads' songs from Chaz Jankel, Dury's co-writer. Jankel re-recorded the film's tracks with the original Blockheads and Serkis as well as compose some of the film's score. Serkis picked up a best actor nomination at the British Independent Film Awards in November for his role.
Ralph Kamp, of the now defunct London-based Odyssey Entertainment International, picked up international sales rights on the basis of Viragh's script. He will be pitching to international buyers at the European Film Market in Berlin in February under the banner of new company Metropolis, owned by Prescience.
Entertainment releases sex&drugs in the UK on January 8 on 100-plus screens. "[Dury] was so many different characters rolled into one — his family life, groupies, rock 'n' roll, girlfriend," says Whitecross. "It was the clash between public and private that was really interesting to me."