Dir/scr: Paul W S Anderson. US. 2010. 97mins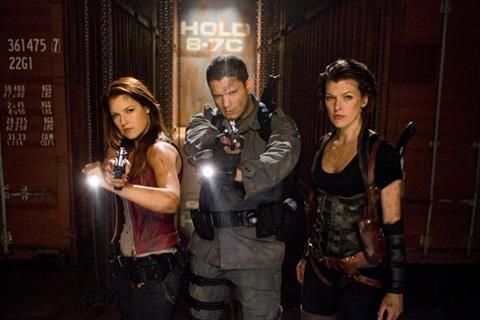 With Milla Jovovich once again starring and original director Paul W S Anderson back in that chair (as well as writing and producing), the fourth videogame-derived Resident Evil film has 3D as a selling point but not much new to offer in the way of inventive action or involving plot. Producer Constantin Film and distributor Sony will have to hope that 3D and fanboy loyalty are enough to keep this solidly successful franchise performing at the box office.
Jovovich wears fewer sexy outfits and does less acrobatic fighting this time out.
Sony's Screen Gems label launches Afterlife this weekend in the US with a $20m-$30m opening expected, pointing to an eventual domestic take comparable to the $50m+ grosses of the two previous installments. The franchise has become more successful internationally with each new installment, so this episode - which hits a few major markets this weekend and others later this month - could as much as double its domestic take in the rest of the world.

Afterlife picks up roughly where 2007's Extinction left off, but it doesn't take the futuristic story anywhere very interesting. A decent action opening has Jovovich's action heroine Alice and her clones destroying the Japanese stronghold of the evil Umbrella Corporation. The setting then shifts to a post-apocalypse Los Angeles, where Alice helps a small band of human survivors battle the Umbrella-created zombie hordes and investigate a tanker ship that appears to offer refuge.

British genre specialist Anderson - who wrote and produced but didn't direct the second and third films - delivers some big noisy (and occasionally slightly camp) action, but it's not as taut or physical as the action in the earlier films. And most of it comes after a draggy first half that's heavy on portentous narration.

The 3D effect is technically impressive but the format is put to oddly old fashioned use, with a variety of projectiles zooming out of the screen.

Jovovich wears fewer sexy outfits and does less acrobatic fighting this time out. The new additions to the cast make little impression, though appearances by Spain's Sergio Peris-Mencheta (Luz de domingo) and the UK's Kacey Barnfield (TV's The Bill) could create a little extra audience interest in those markets.

Among non-human characters, the mutant dogs are back, the zombies have been upgraded and the videogames' giant Executioner character appears for the first time, though briefly and without much consequence.

Productions companies: Constantin Film, Davis Films, Impact Pictures

Worldwide distribution: Sony Pictures

Producers: Don Carmondy, Robert Kulzer, Jeremy Bolt, Paul W S Anderson

Executive producers: Victor Hadida, Martin Moszkowicz

Cinematography: Glen MacPherson

Production designer: Arv Grewal

Editor: Niven Howie

Music: tomandandy

Website: www.residentevil-movie.com

Main cast: Milla Jovovich, Ali Larter, Kim Coates, Shawn Roberts, Sergio Peris-Mencheta, Spencer Locke, Boris Kodjo, Wentworth Miller