Dir: Paul W.S. Anderson. US. 2012. 96mins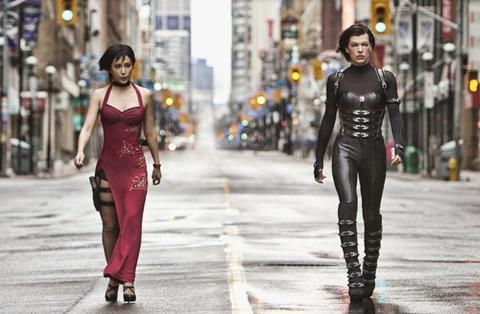 More high-calorie, low-sense, audiovisual CGI stimulation arrives in the form of Resident Evil: Retribution, the fifth and most roundly unsatisfying entry in the previously lithe and fun, $700 million-grossing sci-fi videogame franchise. Slow-motion action and lots of noisy gun battles cannot mask a decided lack of ideas and genuine narrative hurdles in this dispiriting claptrap, which serves chiefly as an inexorable march to the concluding set-up of yet another sequel.
Jovovich, as throughout the series, is a steely, appealing anchor.
With nothing to attract those outside of the series' most ardent fans (the movie did not screen for critics in advance of its Friday opening), Stateside box office should track in the mid-eight-figure range. Buoyed by 3-D presentation, the previous entry, 2010's Resident Evil: Afterlife, almost doubled the earnings of its predecessor, making a whopping $236 million of its $296 million box office haul overseas. Foreign returns will be crucial in setting the budgetary bar for the inevitable sixth Resident Evil installment.
After a handy, direct-address re-cap of the series thus far, Retribution picks up with the crusading Alice (Milla Jovovich) waking up in the prime testing facility of the Umbrella Corporation, deep underground in icy Kamchatka, Russia. The deadly T-virus has continued to ravage the Earth, transforming almost all of its population into wild, flesh-devouring lunatics. Other mutant creatures also roam free.
The artificially intelligent Red Queen, who's directing an attempted extermination of humanity, has taken mind control of Jill Valentine (Sienna Guillory), a former ally of Alice. Meanwhile, needing Alice's assistance in the outside world, the formerly (and potentially still) evil head of Umbrella, Albert Wesker (Shawn Roberts), dispatches a group of soldiers, led by Leon (Johann Urb), to rendezvous with her and another one of his associates, Ada Wong (Li Bingbing). A litany of other characters from previous films also return, many from various experiments for clone use.
Returning impresario Paul W. S. Anderson has written every movie in the franchise, and occupies the director's chair for the third time here. Rather than bring a unifying vision, however, his imagination and orchestration exude the slapdash feel of a hastily assembled, studio-curated greatest hits collection. Unfolding at a testing facility allows for numerous "simulations" in different cities, giving the movie's discrete set pieces the feeling of videogame levels. Business of course drives studio decision-making, but the only discernible incentive to this threadbare tale is as a bridge to even more money from a sixth entry.
Given the lack of emotional investment, the screenplay's motivation-swapped packaging of familiar characters feels like the cheapest sort of soap opera melodrama imaginable. And other ideas the script does introduce — human test subjects grown and imprinted with memories merely to ensure the "proper emotional response" during various pandemic simulations by Umbrella — are addressed in such lazily cursory fashion as to invite only baffled derision.
While the film throws a lot of CGI wizardry at the screen, it is frequently confusingly edited, and its use of slow-motion is arbitrary, and seemingly designed to pad the running time. The 3-D presentation includes a small handful of effects in which items pop toward the screen, but is mostly inessential.
Jovovich, as throughout the series, is a steely, appealing anchor, and beautifully photographed by cinematographer Glen MacPherson and Anderson, her off-screen partner. But much of the other acting is subpar. Li is especially dull and monotone, and Guillory's lack of athleticism is notably problematic in Valentine's awkwardly choreographed penultimate showdown with Alice.
Most of composers Tomandandy's more interesting rhythmic contributions are compromised by booming bass, and swallowed up by robust sound design.
Production companies: Screen Gems, Davis Films, Impact Pictures, Constantin Film
Domestic distribution: Sony Pictures
Producers: Don Carmody, Paul W.S. Anderson, Jeremy Bolt, Robert Kulzer, Samuel Hadida
Executive producers: Martin Moszkowicz, Victor Hadida
Co-producer: Alexander Dostal
Screenplay: Paul W.S. Anderson, based on the Capcom videogame series
Cinematography: Glen MacPherson
Editor: Niven Howie
Production designer: Kevin Phipps
Music: Tomandandy
Visual effects supervisor: Dennis Berardi
Website: www.residentevil-movie.com
Main cast: Milla Jovovich, Sienna Guillory, Michelle Rodriguez, Kevin Durand, Shawn Roberts, Colin Salmon, Johann Urb, Boris Kodjoe, Li Bingbing, Aryana Engineer and Oded Fehr