Dir/scr: Andrew Bujalski. US. 2015. 105mins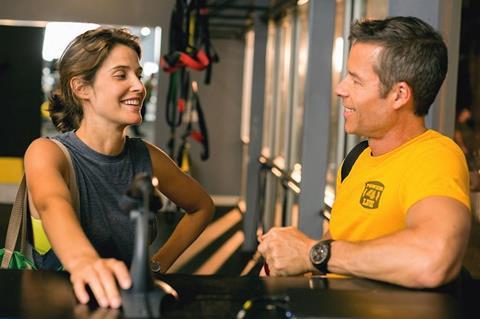 After Computer Chess, his retro analogue-video head-trip, filmmaker Andrew Bujalski returns to more accessible ground in this Texas-set oddball relationship comedy and satire of fitness culture. But despite its higher profile cast (Guy Pearce, Kevin Corrigan, Cobie Smulders), Results still exists defiantly in idiosyncratic indie-land, with a roughhewn, character-driven, slice-of-life story.
Bujalski shows such an affection for the characters and their faults that it also makes them endearing.
With its name cast and affable tone, the film is Bujalski's most commercial project to date. But given his track record (Mutual Appreciation, Beeswax, Computer Chess), that isn't saying much. After Magnolia Pictures gives the film a domestic launch, Results could see modest box-office results in international markets where Bujalski's work is appreciated.
The film efficiently introduces us to its three main characters: Danny (Kevin Corrigan), a shlumpy stoner with a wealthy inheritance, enters the Power 4 Life gym, seeking physical improvement. "What are your goals?" asks inspirational fitness coach and gym owner Trevor (Guy Pearce). "I want to be able to take a punch without falling down or puking," says Danny. Meanwhile, Kat (Cobie Smulders), an acerbic Power 4 Life trainer, literally chases down a delinquent client in her car and then chastises her for eating a cupcake.
Soon, Kat begins to train the lackadaisical Danny. Though complete opposites ("We may disagree on the definition of health," quips Danny), he falls for Kat's hip thrusts and abusive ways, and tries to woo her. When Trevor finds out, he threatens Danny, but we quickly learn it's not just to protect his employee, but because he's in love with Kat. What follows is an offbeat journey of miscommunication, dysfunctional relationships, and lonely people who can't figure out what or who they want.
Results starts out strong, with some great comic bits involving Danny's newfound wealth and the demands of his fitness regimen, in which he shows only a blasé half-interest (he eats pizza, drinks beer, etc.). As the story unfolds, with Danny becoming a key figure in Trevor and Kat's lives, some viewers may lose their patience with the looseness of the narrative, but this is Austin, TX, after all. But that's not to say there isn't a payoff: Towards the end of the film, there is a brilliantly staged and edited quasi-courtship scene in which Trevor and Kat are jogging in opposite directions, listening to opposing music, and then he begins to chase her.
As Danny, Corrigan is a perfect pothead, as he exudes his pudgy gut and mellow vibe. Offering a stark counterpoint to Corrigan are Pearce's terrific portrayal of Trevor and Smulders' Kat, both of whom find ways to compensate for their emptiness—he with an enthusiastic dedication to physical fitness platitudes and her with a lacerating attitude. And just for fun, Giovanni Ribisi shows up as a stoner lawyer and Anthony Michael Hall makes an appearance as a Russian bodybuilder. They're all so screwed up, but Bujalski shows such an affection for the characters and their faults that it also makes them endearing.
While Bujalski's last film showed a penchant for formal experimentation, Results' cinematography is proficient and conventional. The film is aesthetically bolder in the music department with Justin Rice's percussive score: in certain scenes, a heavy drumbeat increases the underlying angst.
Production companies: Burn Later Productions, Houston King Productions
International sales: ICM, www.icm.com
Executive producers: David Bernon, Greg Stewart, Sev Ohanian
Producers: Sam Slater, Paul Bernon, Houston King
Cinematographer: Matthias Grunsky
Editor: Robin Schwartz
Production designer: Michael Bricker
Music: Justin Rice
Main cast: Guy Pearce, Cobie Smulders, Kevin Corrigan, Giovanni Ribisi, Anthony Michael Hall, Brooklyn Decker, Constance Zimmer