Dir: Carl Tibbetts. UK-Ireland. 2011. 86mins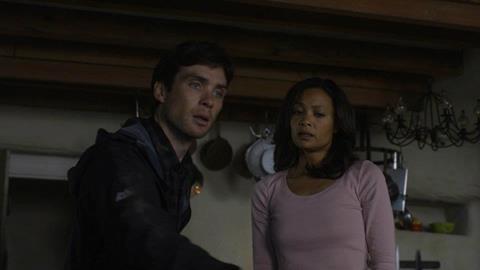 An unrelentingly moody and claustrophobic three-handed thriller, Retreat is an assured and nicely staged debut from Carl Tibbetts that might feel all rather familiar but manages to keep the story suitably unpredictable and nicely paced.
There are times when the film feels rather like a land-bound Dead Calm.
Cillian Murphy, Thandie Newton and Jamie Bell are impressive as three damaged people thrown together in a gloomy and unsettling environment, and their strong performances should help sales, and while not an easy theatrical release it has potential on home entertainment.
Married couple Kate and Martin (Newton and Murphy) head to remote Blackholme Island where they hope the idyllic Scottish cottage where they spent happy times could help bring them together again. They are both dealing with a personal tragedy, but finding it hard to communicate again.
Into their isolated world comes a bloodied young man (Bell) in army fatigues who happens to be carrying a gun. He tells them that there has been an outbreak of a deadly virus on the mainland and that they have to seal the house as the only way to survive.
Kate stridently objects to him barricading their house from the inside, but with their CB radio not working and the generator broken they have little choice to go along with his argument. Especially since he is threatening and has the gun.
Naturally enough there is more to him and his claims than meet the idea, and the final third of the film is nicely set up for twists, violence and thrills as Kate and Martin realise they have to fight for their lives to escape a controlling and violent psychopath. Jamie Bell is appropriately loopy and tends to dominate the film, though Thandie Newton's character develops and grows impressively.
There are times when the film feels rather like a land-bound Dead Calm, but as in that film it is driven by the strength of the performances and the controlled direction that helps keep the film tight and tense right through to the final dramatic scene.
Production companies: Magnet Films, Ripple World Pictures
International sales: Quickfire/SC Films, www.quickfirefilms.com
Producers: Gary Sinyor, Dominc Wright
Executive producers: Jacqueline Kerrin, Sir David Frost, Michael Rosenberg
Screenplay: Carl Tibbetts, Janice Hallett
Cinematography: Chris Seager
Editor: Jamie Trevill
Music: Ilam Eshkeri
Main cast: Cillian Murphy, Thandie Newton, Jamie Bell