Dir: Laurent Cantet. France. 2014. 95mins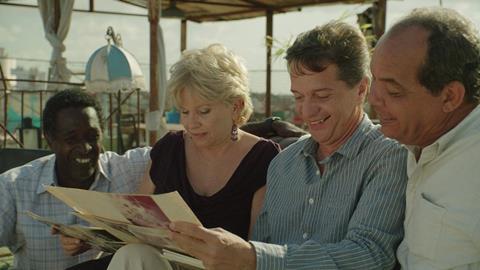 A conversation piece going on for an hour and a half on a Havana rooftop may seem like less than an attractive proposition for an evening's entertainment. But despite appearances, Laurent Cantet's new film turns out to be an amazingly astute, perceptive and at the same time moving film about a whole disenchanted generation taking stock of its past.
Shooting the entire film with two cameras, to give his actors more freedom Cantet never lets any of his actors go further than an arm's length from his lenses.
Written by Cantet with Cuban author Leonardo Padura, this encounter between five friends which starts in the evening, to celebrate the return of Amadeo (Nestor Jimenez), a once promising playwright, who had defected 16 years ago to go to Spain, and ends the next morning, may seem like filmed theatre in some eyes.
But thanks to a script that does away with all theatricality and uses the most straightforward, unpretentious language, performances that are spontaneous and truthful enough to seem improvised on the spot, the wide screen camera which uses Havana, its landscape, inhabitants and its particular sounds as an integral part of the backdrop and keeps it always present in the frame, this is very the kind of experience that no stage can offer with similar intensity.
On the rooftop, where the film's entire action takes place, Amadeo meets the friends he left behind and all the memories they have shared together. As the evening proceeds, the recollections of the past grow from nostalgic bits of pleasantry about youthful pranks into more painful, intimate and hurting confessions.
The portrait of a whole generation of intellectuals who have capitulated, emasculated by fear and frustration, compromising themselves, one way or another, abandoning all their ambitions and prospects out of sheer terror, comes out in the open, and though for a while it seems that none of them is willing to condone the conduct of the rest, they all accept their defeat as the only way to survive.
Cantet and Padura place the beginning of this process in the early nineties, when the "special period" declared by Castro's regime, after the collapse of the Soviet Union, launched a black decade of hunger and deprivation, accompanied by a climate of fear which left its imprints on every Cuban around.
Tania (Isabel Santos), the ophthalmologist, made ends meet by accepting gifts from the clients, Rafa (Fernando Hecheverria), the painter whose inspiration dried, Eddy (Jorge Perugorria) who abandoned his writing for wheeling and dealing bordering on corruption or Aldo (Pedro Julio Diaz Ferran), a black engineer left without a job to do menial work, but still believing in an ideal, because it is the only way he can justify his existence. As for Amadeo, running away to Spain put an end to his playwriting career, the best he could do on the other side of the Atlantic is teach in school. And like so many other uprooted artists, he dreams of returning back home.
Though this may sound like a thematic analysis of Cuba, the dream that failed, it is much more than just that. With relatively minor changes, one could discuss in similar terms the bankruptcy of most countries under totalitarian rule, certainly those who were once behind the Iron Curtain. But what makes this particularly Cuban is the warmth and the closeness that permeates all of Cantet's richly vibrant characters, the feeling that beyond all their conflicts, and notwithstanding the terrible anger and disillusion burning in all of them for what they have lost and missed, their friendship is deeper than anything that might separate them.
Shooting the entire film with two cameras, to give his actors more freedom (a technique he has already used in the past) Cantet never lets any of his actors go further than an arm's length from his lenses. He keeps them all at an intimate, close range and is rewarded by uniformly excellent performances, the kind where actors disappear entirely into the parts they play. Who can ask for more?
Production company: Full House

Producers: Didar Domheri, Laurent Baudens, Gael Nouaille

International sales: Funny Balloons, contact@funny-balloons.com

Screenplay: Laurent Cantet, Leonardo Padura

Cinematography: Diego Dussuel

Editor: Robin Campillo

Main cast: Isabel Santos, Jorge Perugorria, Fernando Hecheverria, Nestor Jimenez, Pedro Julio Diaz Ferran