Dir: Jerzy Skolimowski. Poland/Ireland 2015. 81 mins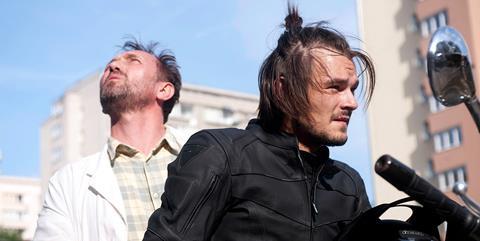 Well into his eighth decade, and his sixth of directing features, Polish veteran Jerzy Skolimowski shows no shortage of vigour, or appetite for challenge, in 11 Minutes, a thoroughly entertaining and quite flamboyant Polish-language multi-strander. The trick of bringing together multiple, seemingly unconnected characters in a complex, fragmented jigsaw structure has become an increasingly popular cinematic pursuit - but while films such as 21 Grams and Crash tend to highlight their philosophical we-are-all-connected thematics, Skolimowski's essay in chance and causality is more of a virtuoso exercise.
11 Minutes is as much a virtuoso party piece as anything - but it shows a veteran director in youthful form, clearly having a ball
Audiences with a taste for stylistic brio and cool, if hyper-cynical wit, will find this a thoroughly invigorating exercise, although Skolimowski's final gesture, bringing down his elaborate house of cards with a flourish, may leave many feeling that they've been taken for a ride. Continuing Skolimowski's late-career comeback that began with Four Nights With Anna (2008) and continued with 2010's Essential Killing, this is a thoroughly commercial upmarket film that should play well to audiences who like their entertainment with a cerebral edge.
Shot in Warsaw, with additional filming in Ireland, the film follows a complicated set of events that take place in a single 11-minute period in a modern Polish city - not counting the time covered in a pre-credits sequence that introduces the characters in footage shot on iPhones, laptops, surveillance cams and other electronic devices. What follows, photographed in rather more glossy textures, gives us brief slices of action that take place in a super-tight time frame, with episodes overlapping, intersecting, sometimes repeating, and gradually revealing unsuspected connections between the various actors. It is, to say the least, a very involved 11 minutes.
One strand involves a beautiful, newly married actress (Chapko) who has a rendezvous in a glitzy hotel with an American movie director (Dormer, from Game Of Thrones and '71, in sleazy, lizard-like form) who is patently keen to put the moves on her. Meanwhile, her jealous husband (Mecwaldowski), who has just emerged from a fist-fight, rushes to the hotel to warn her that the champagne they've just drunk was spiked with pills.
At the same time, a hot dog vendor (Chyra), who has been on the wrong side of the law, is seen serving his wares to a group of hungry nuns; an ambulance crew tries to break into a barricaded flat; another couple watches a porn video in a hotel room; a motorbike-riding drugs courier heads towards a freakout in a lift… and so on. All this is signposted meticulously by planting clues to help us navigate the narrative labyrinth: including various comings and goings in the hotel corridor, a bird flying into a mirror and the hot dog man's spiel (played back in fragments several times).
Without revealing too much, the construction is all about scattering the puzzle pieces, then gathering them all together in a final spectacular climax. The final special-effects shot suggests that there is indeed a kind of quasi-metaphysical payoff to 11 Minutes, although it's more in the nature of a wry visual punchline.
11 Minutes will certainly alienate some viewers, who will regard it as a show-offy, superficial exercise in plate-spinning. But while the general design is certainly in no way new, and you'd be wrong to search for too much depth here, Skolimowski pulls off an audacious crowd-pleaser. Handsomely mounted with a deluxe design sheen and a plethora of sneaking Steadicam shots, the film also offers a masterclass of virtuoso editing from Agnieszka Glinska. Ultimately, 11 Minutes is as much a virtuoso party piece as anything - but it shows a veteran director in youthful form, clearly having a ball.
Production companies: Skopia Film, Element Pictures
International sales: Hanway Films info@hanwayfilms.com
Producers: Ewa Piaskowska, Jerzy Skolimowski
Executive producers: Jeremy Thomas, Andrew Lowe, Ed Guiney, Eileen Tasca,Marek Żydowicz
Screenplay: Jerzy Skolimowski
Cinematography: Mikołaj Lebkowski
Editor: Agnieszka Glinska
Production design: Joanna Kaczyńska, Wojciech Żogała
Music: Paweł Mykietyn
Main cast: Richard Dormer, Wojciech Mecwaldowski, Paulina Chapko, Andrzej Chyra