The elderly proprietor of an isolated Algerian roadside cafe is the subject of this evocative documentary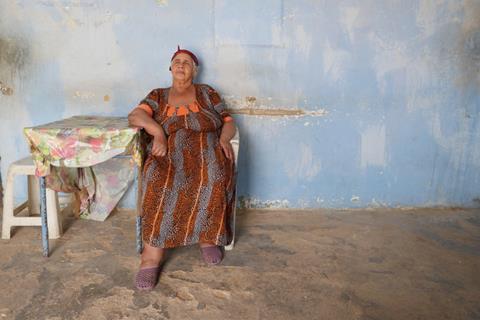 Dir/scr. Hassen Ferhani. Algeria. 2019. 103mins
Impassioned discussions about the world, impromptu sing-alongs and failed attempts to buy a mobile phone: from the isolated roadside cafe that she's called home for a quarter-century, the sprightly Malika experiences it all. The second feature-length documentary by Algerian filmmaker Hassen Ferhani (Roundabout in My Head), 143 Sahara Street observes life in one of the North African nation's remote expanses, all through the comings and goings at its ageing subject's hut-like abode. Already doing the rounds on the festival circuit — winning Locarno's Best Emerging Director prize, then screening in Toronto and now Hamburg — this quietly compelling film should keep bustling along the same path.
Ferhani lets the film's sights and noises paint an evocative picture
Described as 'an inverted road movie' by its writer/director — firmly focusing on a fixed spot on Route Nationale 1 in Algeria's El Ménia region, rather than journeying elsewhere — 143 Sahara Street takes its cues from its central figure. Malika sits and waits, welcoming anyone and everyone who comes her way, and so does this unhurried yet insightful picture. No matter who walks through her door, or when, she's there to pour tea and cook eggs; two of the three items on her menu, the other being water. Her customers unburden their tales over meals, relaying personal hardships, international news and much in-between, while the stoically charismatic Malika proves both careful with her words and a source of hard-earned wisdom.
Names aren't always offered, conversations don't always flow smoothly and there's an episodic feel, unsurprisingly; however the film hones in on revelatory moments. While language hampers Malika's interactions with a European woman who's motorcycling across the continent solo, the difference between their lives is visibly apparent, including in the cafe proprietor's unspoken reactions.
Whenever meowing ginger tabby Mimi roams into view, Malika's eyes light up, with the audience slowly given enough details of her backstory to understand her level of devotion to her feline companion. Transient regulars also flit in to keep her abreast of the latest big news in this stretch of the Sahara, because change is inevitable, even here — arriving, inescapably, via a shiny new petrol station and truck stop that's under construction next door.
The irrepressible figure also shares a standout mischievous exchange with writer Chawki Amari; a friend of the director's who introduced him to Malika. Loitering behind one of her many windows, he pretends that he's been imprisoned and jokes about the conditions, while she's happy to play along with the gag. The film's mood lifts from contemplative to light-hearted, albeit briefly, and Ferhani makes 143 Sahara Street's most pertinent point. It doesn't escape attention that the bulk of the documentary gravitates towards frames within frames, outlining Malika and her revolving array of visitors through doorways and other openings, but Ferhani stresses that these confines are only as restrictive as one allows.
Resonating beyond the woman at its core, that notion sweeps through the film like the gusty desert wind, with Malika content to watch the world go by while she savours her small patch of earth. Acting as his own cinematographer, and enlisting the shrewd skills of his sound team, Ferhani lets the film's sights and noises — the dusty landscape, sprawling as far as the eye can see, and more cross-country traffic than one might expect given the setting — paint an evocative picture of the home she's made seemingly at the end of the world.
Amari even dubs Malika as "the gatekeeper of the void" during the pair's banter, although the movie around them largely disproves that moniker. Her surroundings may be rocky, dry and sparse, but as this perceptive documentary shows, life here is far from straightforward, easily categorised or empty.
Production companies: Centrale Electrique, Allers Retours Films
International sales: Pascale Ramonda, pascale@pascaleramonda.com
Producers: Narimane Mari, Olivier Boischot
Cinematography: Hassen Ferhani
Editing: Hassen Ferhani, Nina Khada, Stéphanie Sicard, Nadia Ben Rachid
Features: Malika, Chawki Amari, Samir Elhakim