Dir. Anne Zohra Berrached. Germany. 2016. 102 mins.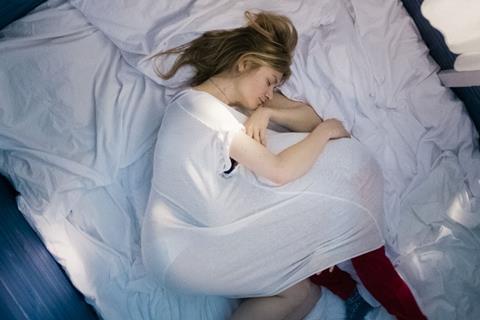 The second feature from Anne Zohra Berrached addresses one of the most difficult decisions that a woman may have to make in her life. Astrid (Julia Jentsch) must choose whether or not to have a late term abortion when she discovers that her unborn child's health is severely compromised. It's a highly emotive subject and Berrached does not give her characters – or her audience – an easy ride.
24 Weeks forces us to identify deeply with Astrid's anguish and as such it's a gruelling viewing experience
Through a combination of unflinching, high quality performances and some assiduous button-pushing, Berrached has put together a wrenchingly affecting picture. But while tears will be shed – and plenty of them, if the Berlinale press screening was anything to go by – the considerable emotional impact does not quite obscure the fact that there are several questionable directing decisions here.
The hot-button topicality of the picture should ensure that it will play a role in the ongoing debate about a woman's right to choose to abort a viable foetus. It will also present a considerable marketing challenge. While the Palme d'Or win didn't hurt the prospects of Christian Mungui's 4 Months, 3 Weeks & 2 Days, it was the film's taut quasi-thriller structure which mitigated the bleak subject matter for audiences. The emotional journey of 24 Weeks forces us to identify deeply with Astrid's anguish and as such it's a gruelling viewing experience. Any theatrical deals will be made in the knowledge that even within the abortion movie sub-genre, this will be a tough sell.
Astrid (Julia Jentsch) is a successful television comedienne; Markus (Bjarne Madel), her boyfriend, is also her manager. Their domestic harmony is established in a melodic, flowing tracking shot which follows Astrid as she chases her daughter Nele around the garden. The camerawork becomes increasingly agitated as the couple struggle to come to terms with the news that their unborn son has Down's Syndrome and a serious heart defect.
Astrid and Markus initially decide to proceed with the pregnancy, but as she learns more about her child's grave health problems, Astrid starts to have doubts. As their relationship starts to suffer, Astrid and Markus face added pressure from the fact that, as a celebrity, her pregnancy is considered public property.
It's a incredible, revealing performance from Jentsch. She draws us under the skin of her character and forces us to ride the same waves of emotion – guilt, sadness, rage – as she struggles to make her decision. Her involuntary flinch and recoil when a doctor explains the details of the termination procedure is almost painful to watch.
Berrached's approach is naturalistic and, at first at least, spiked with spirited flashes of humour. Which is why, when on two occasions she has Jentsch gaze directly into the camera, it is slightly jarring, chipping away at the fourth wall and lifting us momentarily out of the film. More troubling is the use, at key moments, of footage of a foetus in utero. Given the uncompromising candour of the rest of the film, this pointed reminder that the life of an unborn child hangs in the balance can feel like a manipulation too far.
Production company: zero one film
International sales: Beta Cinema beta@betacinema.com
Producer: Thomas Kufus, Melanie Berke, Tobias Buechner
Screenplay: Carl Gerber, Anne Zohra Berrached
Cinematography: Friede Clausz
Editor: Denys Darahan
Production design: Janina Schimmelbauer, Fabian Reber
Main cast: Julia Jentsch, Bjarne Madel, Johanna Gastdorf, Emilia Pieske