Flawed but impressive, Patrick Vollrath's debut is set entirely inside the cockpit of a hijacked plane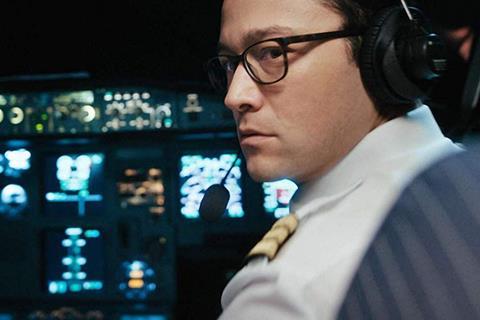 Dir: Patrick Vollrath. Germany/Austria. 2019. 92 mins
Mid-air mayhem is a longstanding staple of the action-movie, but writer/director Patrick Vollrath attempts to strip everything back to basics with 7500, which depicts an airplane hijacking in all its tense, gruelling horror. More United 93 than Mission: Impossible, this is an undeniably visceral, well-executed debut feature but slightly begs the question of how readily audiences will want to watch something that they wouldn't wish to experience. A strong central performance from Joseph Gordon-Levitt should convince some viewers to set their concerns aside when 7500 goes out globally through Amazon later this year outside German-speaking territories.
Vollrath confines the story to only what happens or what can be observed from the cockpit
Largely eschewing the heroics and histrionics of an American blockbuster, Vollrath's feature debut strives for authenticity. He begins with a quote from Gandhi that "an eye for an eye leaves the whole world blind". Early scenes ground the film in the banal conversations and routine tasks of another day at the office, the office being an airplane cockpit. Captain Michael Lutzmann (Carlo Kitzlinger) and American first officer Tobias Ellis (Joseph Gordon-Levitt) are preparing for a short night flight from Berlin to Paris. 85 passengers are on board and the crew includes Tobias's partner, stewardess Gokce (Aylin Tezel), the mother of his two year-old son.
When the attack comes it is swift and chaotic as two men rush the cockpit brandishing knives made from glass. The ensuing stand-off leaves the injured Tobias in an impossible position, making life-and-death decisions as he tries to maintain control of the plane and negotiate his way out of the situation.
Vollrath confines the story to only what happens or what can be observed from the cockpit. It is a cramped, one-set location that might have delighted the ingenuity of a Hitchcock. We don't know the reactions of the passengers to their ordeal. We only see what Tobias can see on the black and white monitor positioned outside the cockpit. One terrorist pounds furiously at the door, threatening to kill a passenger unless it is opened. There is a good deal of sweaty-palmed anxiety generated by the story, use of close-ups and the sense of confinement. The narrow focus enhances that intensity but diminishes our understanding of the bigger picture.
Vollrath does have the courage of his convictions in that people die and nothing is entirely straightforward. Tobias has little chance to play the conventional hero and Joseph Gordon-Levitt's naturalistic performance runs the gamut of a man flitting between stoical professionalism and snivelling desperation.
The tension slackens in the closing stages as we learn more about terrorist leader Kenan (Muruthan Muslu) and especially distraught 18 year-old accomplice Vedat (Omid Memar) who recognises that he is way out of his depth. The more the film tries to find something meaningful in the whole situation, the more it lets sentimentality seep into a scenario that once seemed intent only on brisk, businesslike efficiency.
Compact, edge-of-the-seat storytelling that makes good use of Joseph Gordon Levitt's decent, appealing everyman persona. 7500 may have its flaws but it still marks an impressive feature debut for Vollrath that delivers on the promise of shorts that included 2015's Oscar-nominated Alles Wird Gut (Everything Will Be Okay).
Production company: Augenshein Filmproduktion, Novotny Filmproduktion
International sales: Film Nation info@filmnation.com
Producers: Jonas Katzenstein, Maximilian Leo
Screenplay: Patrick Vollrath, Senad Halilbašić
Production design: Thorsten Sabel
Editing: Hansjörg Weißbrich
Cinematography: Sebastian Thaler
Main cast: Joseph Gordon-Levitt, Omid Memar, Aylin Tezel, Carlo Kitzlinger.