British director Ruth Paxton makes an arresting feature debut with this unsettling family psychodrama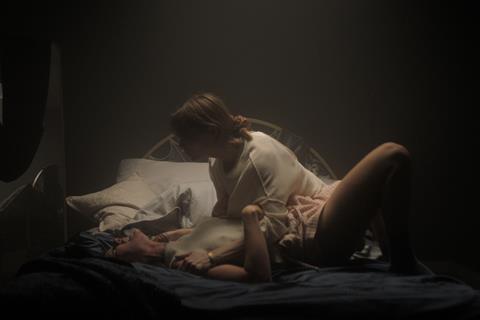 Dir: Ruth Paxton. UK. 2021. 97mins
The tensions between faith, family and fear of the future increasingly resemble an unholy alliance in A Banquet. Ruth Paxton's coolly composed feature debut takes a screenplay by Justin Bull and a feast of influences (Stephen King, Cronenberg, Von Trier etc) and moulds them into an intense combination of apocalyptic nightmare and family psychodrama. The thoughtful, slow-burn nature of the film should attract audiences who were similarly drawn to Rose Glass's Saint Maud.
Cerebral rather than visceral in its approach
Following the harrowing suicide of her husband, Holly (Sienna Guillory) is left to care for teenage daughters Betsey (Jessica Alexander) and Isabelle (Ruby Stokes). Their lavish, Sunday supplement home is now fortress and sanctuary. It could be a tomb. It could be the ante-chamber to another kingdom
At a party, Betsey steps outside for fresh air and is drawn into a nearby forest by the glow of a blood red moon. Nothing is the same once she returns. Convinced that she has been "chosen" by a higher power, Betsey subsequently stops eating. Her body is no longer her own and she cannot stomach even a single garden pea. An anxious Holly exhausts the unhelpful medical and psychiatric help available. "Probably something viral, " concludes an avuncular GP.
Logic dictates that Betsey might be suffering some form of eating disorder. This is a film in which food is depicted as an enemy. A pan of sizzling bacon spits and snarls. Teeth rip through moist chicken flesh and thick sauce drips like blood. Paxton uses extreme close-ups of food to convey the sense that a source of nourishment has become something that disgusts. Yet the fact that Betsey does not appear to be losing weight gives Holly pause for thought. A diary is filled with columns noting an unvarying twice daily weigh-in of an exact 9st, just like the repeated lines of " All work and no play…' in The Shining.
Family dynamics are a key element in A Banquet. This is a trio of women struck by grief, but Betsey is clearly the favourite child. Holly is torn between trying to save her and wanting to believe her. Then grandma June (Lindsay Duncan) pays a visit. Dressed in black with alabster skin and corn Mia Farrow locks, June appears like a freshly laundered garment in a room of dirty washing. Her no-nonsense character seeks to counter Betsey's claims with old-fashioned logic but she adds to the mystery by suggesting that this is family history repeating.
Cerebral rather than visceral in its approach, and full of rich subtext about the bond between mothers and daughters, A Banquet sets the challenge of whether an increasingly shut down Betsey is experiencing agonies of mental health issues or some form of ecstasy. The emotional temperature is set by the committed performances, with Guillory's exasperated Holly a woman driven to despair at the same time as Alexander's Betsey finds an increasing sense of peace. Where the truth lies is central to a provocative, rigorously composed film that confirms Paxton as a singular talent after a string of award-winning shorts.
Production companies: Tea Shop Productions, Riverstone Pictures
International sales: HanWay Films info@hanwayfilms.com
Producers: Leonora Darby, Mark Lane, James Harris, Nik Bower, Laure Vaysse
Screenplay: Justin Bull
Cinematography: David Liddell
Editing: Matyas Fekete
Production design: Sofia Stocco
Music: C J Mirra
Main cast: Sienna Guillory, Jessica Alexander, Ruby Stokes, Lindsay Duncan