Raw and honest first-person documentary about domestic abuse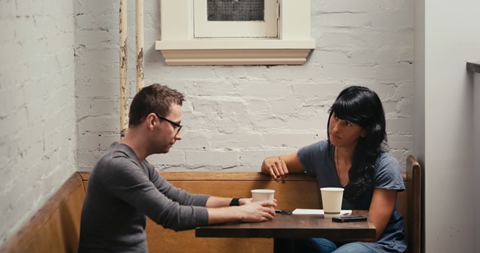 Dirs. Attiya Khan, Lawrence Jackman. Canada, 2017, 79 mins
An extremely personal story of domestic abuse in which co-director Attiya Khan comes face-to-face with her former partner as the camera rolls, A Better Man is part-therapy, part-intervention, wholly genuine. The truth of what happened two decades ago is violent and shocking and still incomplete, but this powerful prising-open of a taboo subject has the quiet potential to terrify.
Attiya Khan is a gentle woman carrying a huge, painful burden.
Short, at 79 minutes, A Better Man is highly suitable as an educational tool and should travel globally to events with an interest in truth and reconciliation. No society is immune to the scourge of domestic abuse, and affected audiences should welcome the open-ness with which Khan tell tells her story. Her film coincides with the release of a therapeutic book co-written by an Icelandic date-rape victim and her Australian abuser, but this is not a jointly-presented piece. It's a highly uncomfortable film in which an ashamed man who used his teenage girlfriend as a punchbag for two years offers himself up to the camera in the hope it might "help even one man not choose violence" .
"I really just want you to be ok," says the pinched, miserable Steve to the woman he has irreparably damaged. Is there hope for either?
Attiya Khan is a gentle woman carrying a huge, painful burden. She has made a very clear and personal film in which both she and Steve struggle with their memories and the painful truth that, at some point, she felt she would not survive their relationship and would die at his hands. As her husband and young son hand out white ribbons at the local store today on behalf of victims of domestic violence, Steve tries to face up to the fact that his past obsession meant "I'm the worst thing that ever happened in your life".
Despite the confessional nature of the piece and the fact they use the services of a therapist onscreen, there isn't too much talk here. She's a warm but clearly reserved person; Steve himself struggles to speak. He doesn't give the answers the audience might expect about what led him to this place. Equally, when an 18 year-old boy repeatedly hits and attempts to strangle a16 year-old girl to the point where she's taken to hospital and turns up to school with visible cuts and bruises, where were the parents, the extended family, the educators? It takes a village to turn a blind eye to a battered woman.
Production values are sparse and it's a small, intimate team. Still, and although it can be scary, A Better Man feels like a safe space for all concerned. In baring their damaged souls Attiya and Steve may ultimately achieve more than they initially aimed for.
As a note to programmers, A Better Man's Hot Docs world premiere screenings saw trained counsellors being stationed in the hallways and elicited emotional responses from the audience.
Production company: Intervention Productions
International sales: www.abettermanfilm.com
Producers: Christine Kleckner, Justine Pimlott
Executive producers: Sarah Polley, Anita Lee, Jane Jancovic, Janice Dawe, Kathy Aurich-Johnson
Screenplay: Attiya Khan, Lawrence Jackman
Cinematography: Iris Ng
Editor: Lawrence Jackman
Music: Lesley Barber