South London-set story of social divides plays Slamdance and Glasgow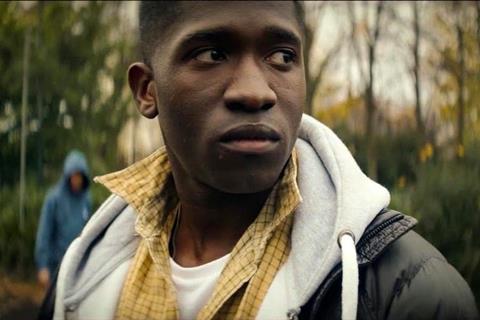 Dirs. Darragh Carey, Bertrand Desrochers. UK. 2021. 76 mins
A nervy, restless little drama which explores the human cost of content creation, A Brixton Tale showcases a cast of emerging talent in a story which views the all-to-familiar theme of abuse of privilege through the lens of social media. It is not breaking much in the way new ground, but there is a skittish, unpredictable energy to the storytelling and a well-realised sense of place which captures the tensions and contradictions of an area of South London in which cultural history, postcode rivalry and gentrification uneasily coexist.
The rules are different for those who are lucky enough to be cushioned by privilege
As the title suggests, the film's location is central to its identity, and, following its premiere at Slamdance and screening in Glasgow, A Brixton Tale should appeal to programmers of events and festivals catering predominantly to young, urban audiences. The filmmaking process involved Brixton as a community resource as well as a backdrop (it was shot largely in and around Barrier Block and Somerleyton Estate), so interest in the film will likely be particularly strong locally. Any bespoke release strategy could be tailored with this in mind.
Leah (Lily Newmark) spends her days loitering on the streets of Brixton with her camera, looking for something authentic. Her eye is drawn to Benji (Ola Orebiyi) and his friend Archie (Craig Middleburg). Archie makes more noise, all pinballing energy and scattergun attention span. But Benji has depth. And after she meets the pair properly, rather than through the covert lens of her camera, it's Benji that she sparks with, over shared cigarettes and beers and teenage bluster. As the initial connection deepens, it becomes clear that they are from very different worlds. Leah's home, equipped with a computer and editing equipment, is lit in opulent velvety reds; Benji's space, in a cramped flat, is shared with his mother and her various business activities.
But it's not until Benji and Leah start to explore each other's worlds that the differences between them become truly apparent. Leah's ever-present camera, a badge of her unthinking entitlement, provokes a hostile response in Benji's tough uncle. And Benji bristles at the biases and casual rudeness displayed by Leah's wealthy, druggy pals at a house party. What complicates the nascent relationship is that Leah is making a 'documentary' of sorts, at the behest of a family friend (Jaime Winstone) who is pushing her for sensational material. And Benji, increasingly, is its subject.
Orebiyi, who made an eye-catching feature film debut in Limbo last year and is set to appear in the Russo brothers' Cherry, finds complexity in his character. His sickening sense of violation, as he stands among champagne-sipping media types in a gallery where Leah's footage is playing, unfolds in a powerful extended shot which focuses on his face. But while Benji persuades as a textured character, Leah can feel a little like an archetype – a well-connected narrative device who is insulated from the real world at which she points her camera.
A final act emphatically underlines the message of the film: that the rules are different for those who are lucky enough to be cushioned by privilege. And not everyone has to live with the consequences of their actions.
Production company: The Damned Crew, Paradox House, BWGTBLD
International sales: ABrixtonTale@gmail.com
Producers: Dennis Gyamfi, Beau Rambaut
Screenplay: Rupert Baynham, Darragh Carey, Chi Mai
Cinematography: Kristof Brandl
Editor: Derek Holland
Production Design: Shalini Adnani
Music: Peter Venne
Main cast: Lily Newmark, Ola Orebiyi, Jaime Winstone, Craige Middleburg, Barney Harris