Rao Xiaozhi's second feature tackles hot-button social issues in China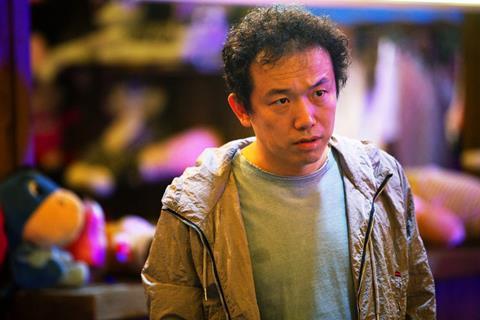 Dir: Rao Xiaozhi. China. 2018. 109 mins
An assortment of desperate characters find themselves on a collision course in Rao Xiaozhi's second feature A Cool Fish. Aiming for a mix of postmodern caper and grassroots social commentary, it's a hectically plotted misfire that comes up short on both fronts. With a Chinese opening set against Fantastic Beasts: The Crimes of Grindelwald and the second weekend of Venom, the film very much an underdog which will fight hard for local audiences thanks to its downbeat take on China's overstretched society, although it landed in third position with $9.5m over its first three days. It also gets a simultaneous limited theatrical run overseas from China Lion, where audiences accustomed to the upscale aesthetic of the distributor's usual fare may be put off by the grubby palette.
Suxi Ren steals the film with a stingingly honest performance that shows how citizens marginalised by society as a result of their physical disabilities almost have nothing left to fear from it
With an interlocking narrative and ironic slant on low-level criminality, A Cool Fish will inevitably be compared to the signature works of Quentin Tarantino and Guy Ritchie. However, it's more in the vein of the scatological comedies of Ning Hao whose trendsetting Crazy Stone (2006) established a template for riffing on overseas influences while caustically addressing a myriad of hot local topics.
In a Southern metropolis, a plot with too many coincidences to feel credible is set in motion when disgruntled migrant workers Bra (Zhang Yu) and Big Head (Pan Bin-long) make a total botch of robbing a mobile phone shop at gunpoint. Pointlessly presented in grindhouse style with faded colors and scratches, this hyperactive sequence is nonetheless capped with an uproarious motorcycle gag.
The robbers lie low at the apartment of bitter quadriplegic Jia (Suxi Ren) who sees right through their tough guy bluster and wastes no time in eviscerating their evident failings. Yet when they aren't trading insults, Bra reveals a surprising profundity, Big Head pines for the girl he loves, and Jia expresses her desire to leave this cruel world behind.
Meanwhile, ex-cop Ma Xianyong (Chen Jiangbin) believes apprehending the hapless thieves as his ticket to getting back on the force after being reduced to working as a security guard following an embarrassing incident. Closer to home, Ma must contend with his teenager daughter YiYi (Deng Enxi), who is rapidly losing patience with her widowed father's belligerent parenting style.
For the most part, Rao and editor Derek Hui juggle these strands confidently with the police interrogation of Big Head's crush Xia Hong (Ma Yinyin), a fellow villager who works at a seedy massage parlor, used as a framing device. It all converges during a parade at a heritage area, the kind of place that symbolises China's traditional culture and harmony but here serves as a stage for cathartic chaos as pent-up frustrations rip through the façade.
The cast is often better than the uneven material. Rugged veteran Chen has been absent from the big screen since 2014 when he won plaudits for his performances in Doze Niu's Paradise in Service and the self-directed A Fool. His hangdog expression and gruff delivery are perfect for Ma, a literally bruised everyman who is street smart but lacks the education to truly excel at his desired profession. However, Ren steals the film as the sharp-tongued Jia. It's a stingingly honest performance that shows how citizens marginalised by society as a result of their physical disabilities almost have nothing left to fear from it.
The film's Chinese title roughly translates as "ordinary people who are unsung" which points to humanist intentions that are largely drowned out but occasionally manage to cut through the noise.
Production companies: Emperor Motion Pictures
International sales: Emperor Motion Pictures, enquiry@EmperorGroup.com
Producers: Luca Liang
Screenplay: Lei Zhilong, Rao Xiaozhi
Production design: Wang Diandian
Cinematography : Li Jian
Music : Deng Ouge
Editing: Derek Hui
Main cast: Chen Jianbin, Suxi Ren, Pan Bin-long, Zhang Yu, Wang Yanghui, Jiu Kong, Ma Yinyin, Deng Enxi