Frederick Wiseman's fiction feature is a monologue taken from the diaries of Tolstoy's wife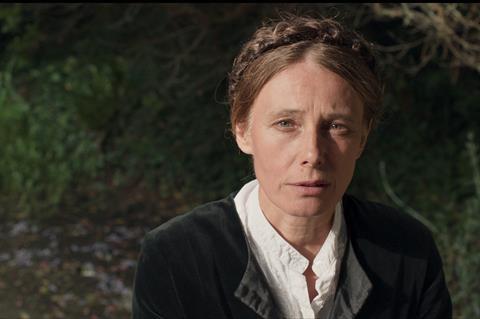 Dir: Frederick Wiseman. France/US. 2022. 63 mins.
Drawn from the letters and diaries of Leo Tolstoy and his wife of 36 (increasingly acrimonious) years, the second fiction feature from Frederick Wiseman is an imagined monologue delivered by his embittered spouse Sophia (Nathalie Boutefeu). Against the photogenic backdrop of the La Boulaye garden in Belle-Île, off the coast of Brittany, Sophia lays bare her bruised soul, with a list of grievances against her husband which range from division of labour (Tolstoy was not big on childcare, evidently) to his violent rages and his morbid obsession with death. It's not the most persuasive advertisement for marriage to a literary giant. Wiseman's collaborative relationship with Boutefeu started in 2012, with a production at the Théâtre Le Lucernaire of a monologue based on Emily Dickinson's poems and letters. And, with its declamatory delivery and rather obdurate focus on nit-picking marital minutiae, A Couple feels similarly theatrical in its approach. As a piece of cinema however, it is somewhat inert.
Wiseman may have rather exhausted the possibilities of the epistolary monologue
Although best known, and rightly celebrated, for his involving observational documentaries, Wiseman has made one previous fiction feature. The Last Letter (2002) is, like A Couple, focused on a single character, and takes the form of a final letter from a mother, who is locked in the Jewish ghetto of an occupied Ukrainian town, to her son. Having already employed the same approach with both The Last Letter and the Emily Dickinson play (titled 'La Belle de Amherst'), Wiseman may have rather exhausted the possibilities of the epistolary monologue. A Couple will tick plenty of boxes for fans of close-up shots of the native flowering shrubs of Brittany, but it is unlikely to make much of a mark beyond the festival circuit (the film will show at the New York Film Festival following its premiere in competition at Venice).
Both Leo and Sophia were dedicated diarists – on their wedding night, they apparently exchanged journals and read excerpts to the assembled guests, a fact which really brings home their unmitigated awfulness as a couple. And, although they lived in the same house, they also were prolific letter writers, scrawling lengthy and rather pissy-sounding missives which examined, in detail, the state of their marriage past, present and future.The screenplay, which was co-written by Wiseman and Boutefeu, draws on both husband and wife's written archives (and is delivered in French rather than Russian), but it is only Sophia's voice that we hear. This focus on the woman's voice, traditionally drowned out by that of her husband, certainly redresses the historical balance, but leads to a slightly one-sided and one-note film.
It's an approach which, by its nature, leans heavily on the quality of Boutefeu's performance. But the monologue device limits what she is able to do with the role and enforces an unwieldy theatricality onto the performance. For all Sophia's talk of dynamism and energy as a character, there's a very static quality to the approach – a series of largely locked shots of Boutefeu standing slightly awkwardly in front of various bits of foliage, bemoaning her treatment by her husband.
And when Wiseman attempts to introduce some movement into the film, Boutefeu is constantly tripping over roots and getting herself tangled in twigs. But performance aside, the key issue is that endless griping about a shitty marriage – even the marriage of arguably the pre-eminent figure of 19th century literature – is a drag. The main takeaway from the picture is that Sophia Tolstoy really needed to get a hobby.
Production companies: Wat Films, Zipporah Films, Inc
International sales: The Party Film Sales clemence.lavigne@thepartysales.com
Producers: Frederick Wiseman, Karen Konicek
Screenplay: Frederick Wiseman, Nathalie Boutefeu
Cinematography: John Davey
Editing: Frederick Wiseman
Music: Felix Mendelssohn
Main cast: Nathalie Boutefeu