Dir: Lukas Valenta Rinner. Austria-South Korea-Argentina. 2016. 99mins.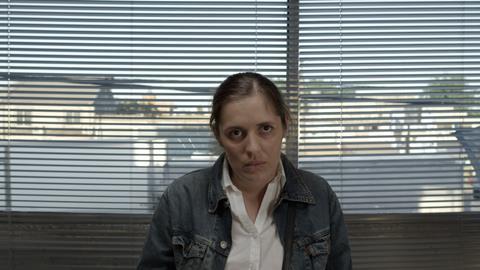 By now there are enough films about the paralysing anomie of the Argentinian (and Latin American) upper-middle classes to fill a plump festival retrospective. The latest offering, from Buenos-Aires-based Austrian director Lukas Valenta Rinner, takes a spoonful of The Maid, a pinch of Carlos Reygadas and a pool-ful of La Cienaga to spin a tale about a repressed home help in a gated community who finds liberation, both and emotional, in the free-love nudist camp next door.
There's the kernel of a good idea in the way Belen is preyed upon, or patronised, by gated conservatives and free-love liberals alike
There are times, it's true, especially in the film's first half, when it feels like A Decent Woman might be heading somewhere intriguing, but a sub-Tarantino ending scuppers the promise. Premiering in competition at Sarajevo, and produced with funding from the Jeonju International Festival's Cinema Project, this quirky film should go on to attract further festival play, but theatrical exposure outside the three oddly disparate territories that had a hand in its production could be a challenge.
Based - least in part - on a true story about the residents of a monied, manicured Argentinian gated enclave and their efforts to have the nudist club next door closed down, the film is buoyed up by two things in particular: the director's control of deadpan, ironic atmosphere via a slow crescendo of carefully framed and designed shots, and the central performance of actress and dancer Iride Mockert in the physically demanding role of Belen, whose clumsy, jerky, tilted-forward walk suggests repressed demons.
We first glimpse her as one of a series of interviewees for a housekeeping job, the camera standing in for an unseen staff recruiter. "Leave the door open, please," the headhunter tells each dispensable candidate at the end; but despite her nervous, haunted demeanour, Belen lands the job – probably because she "has nothing else on" and is prepared to live in.
The security booth where Belen and other workers check in after being dropped off by the staff bus could belong to a prison or hospital; in fact it guards a high-class, fenced-in residential enclave, where the taciturn, repressed woman begins to work for nipped and tucked society lady Diana (Strenitz), whose hovering control of the minutiae of her maid's work seems to stem more from boredom and loneliness than imperiousness. Diana's son Juanchi (Shanly) is a spoiled rich kid who does little except train for tennis tournaments and throw McEnroe-style tantrums.
An overweight security guard (Sayavedra) employed by this soulless, sprawling garden condo begins shyly to court Belen, while at the same time she becomes fascinated by the nudist club next door. Soon, overcoming her terror, she's strolling past naked gardeners and sunbathers, so different from the severe lines and clipped lawns of the world on the other side of the electric fence. Before long these New Age nudists will initiate Belen into their community, which appears to have no leaders, but is clearly drawn mostly from the same privileged social class as her employers – the difference, apart from the lack of clothes, being that they prefer tantric sex and touchy-feely healing sessions to tanning lamps and tennis.
There's the kernel of a good idea in the way Belen is preyed upon, or patronised, by gated conservatives and free-love liberals alike, but it's taken nowhere interesting. In the nudist club, character development is jettisoned in favour of artsy tableaux – the most tiresome being when the denizens release their inner animals thanks to some dodgy body paint, mewing and growling for the camera. Rinner keeps a steady hand on the deadpan ironic tone, but ultimately that's not enough to lift this curio beyond the droll, or to capitalise on the promise of the director's more rewarding 2015 Rotterdam-screened debut, Parabellum.
Production company: Nabis Filmgroup GmbH
International sales: FiGa Films, contact@figafilms.com
Producers: Lukas Valenta Rinner, Ana Godoy
Screenplay: Ana Godoy, Ariel Gurevich, Lukas V. Rinner, Martin Shanly
Cinematography: Roman Kasseroller, Andres Hilarion
Editor: Ana Godoy
Music: Jimin Kim, Jongho You
Main cast: Iride Mockert, Martin Shanly, Andrea Strenitz, Mariano Sayavedra