Dir. Bahman Ghobadi. Iraqi Kurdistan. 2015. 97mins.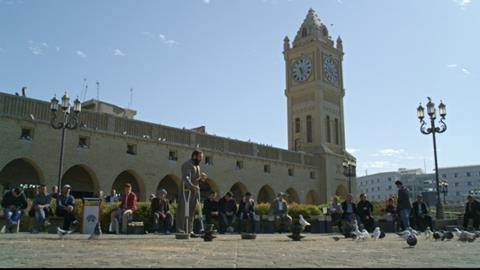 Iraqi Kurdish filmmaker Bahman Ghobadi has forged a career out of telling the stories of his embattled people. And in the drama-documentary A Flag Without A Country, he turns his camera onto a Kurdistan with a new threat: ISIS.
A symbolic open ending leaves a great many questions about the future of the region and the Kurdish people
Premiering at Busan, this is certainly a timely piece. But the tone is uneven. Ghobadi takes a similar approach to that of his 2009 film Nobody Knows About Persian Cats in that the central characters are real people, playing themselves in dramatised situations. In this case, the characters are Nariman Anvar, a Kurdish figurehead known as 'Nariman the Pilot' and Helly Luv, a pop star, actress and all-round force of nature. With its messages muddled by the glossy pop promo editing of Helly's segments, A Flag Without A Country's newsworthy backdrop might not be enough to tempt audiences outside the festival circuit who warmed to Ghobadi's more conventional tales of children on the front lines, Turtles Can Fly and A Time For Drunken Horses.
An autodidact pilot and aeronautical engineer, Nariman has hand built several planes, and survived the crash of one of them. He's celebrated as an emblem of Kurdish resourcefulness and perseverance, but finds that the crash has dented the confidence of the parents of the children in his rather ad hoc pilot training scheme. Nariman hobbles from door to door on his crutches, trying to persuade the parents who now see pilot-training as a shortcut to martyrdom. Undeterred, he visits a new refugee camp for Syrian Kurds who have fled the encroaching horror of ISIS and there finds twenty five enthusiastic youngsters to join his flying school.
Meanwhile, Helly is on a mission. Kardashian-esque locks flying, make up immaculate, she gathers together the raw materials for her project. Her shopping list includes thirty small Kurdistan flags - "they must be beautiful!"; five Russian kalashnikovs; a handful of Syrian refugee children and a heavily sedated lion.
There are links between the two characters. Both are based in Erbil, the capital of Iraqi Kurdistan, both come from families that were displaced and fractured by the various assaults on the Kurds by the forces of Saddam Hussein. Both are public figures, and both are striving, in their own way, to contribute to future for their people.
Ghobadi explores the back story for both, although only Nariman merits a sepia-tinged dramatised reconstruction of his aviation-obsessed childhood and first love in a refugee camp in Iran. Helly, meanwhile recounts an early childhood which involved a month living on the streets of Turkey, followed by a new life in Finland.
Helly's project comes to fruition: it's a music video so over the top, it makes Psy's Gangnam Style promo look like the model of restraint. She mounts a charm offensive to persuade the mother of one little girl to loan her for the day. The obviously starstruck woman counters with an offer of the child for 'one year…two years', before asking, "Do you know Rihanna? The one with the big eyes? Why do her eyes always look so sad?".
Helly follows up with music lessons for the children in the camp, which mostly involve her smiling mistily while tots massacre various Kurdish nationalist anthems. Helly is very aware of the camera.
Although both characters are often in the same place at the same time – the camp, a scrapyard for war wrecked vehicles – they don't acknowledge each other until the very last scene. Both characters have learned that ISIS are just thirty miles from Erbil; their subsequent actions bring them together. It's a symbolic open ending that leaves a great many questions about the future of the region and the Kurdish people.
Production company: Mijfilm,Small Talk Inc
International sales: http://www.mijfilm.com/contact
Producers: Bahman Ghobadi
Screenplay: Bahman Ghobadi
Cinematography: Jafar Aslani
Editors: Bahman Ghobadi, Batin Ghobadi
Production designer: Batin Ghobadi
Main cast:Helly Luv, Nariman Anvar