Dir: Tom Tykwer. US/Germany/Mexico. 2016. 98mins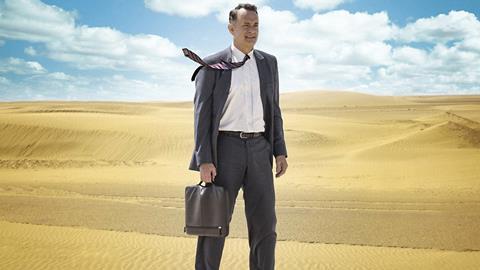 A graceful but nonetheless redundant addition to the "depressed white guy going through a midlife crisis" genre, A Hologram For The King greatly benefits from Tom Hanks' warm, sympathetic performance and Run Lola Run filmmaker Tom Tykwer's muted direction. And yet, this modest saga of a struggling American businessman on a work trip to Saudi Arabia can't break free of the clichés that are inherent to such a story. As thoughtfully rendered as much of Hologram is, the film eventually succumbs to the material's fundamental triteness, offering done-to-death life lessons about second chances and the value of broadening one's perspective.
It's not hard to see where Hologram is going from its earliest moments; Alan's unconventional path to personal growth ultimately plays out pretty conventionally.
Opening April 22 in the States after premiering at the Tribeca Film Festival, this Lionsgate/Roadside Attractions comedy-drama will need Hanks' star power to help find an audience among adults uninterested in the action spectacle of The Huntsman: Winter's War, which opens the same weekend. Based on the 2012 Dave Eggers novel, Hologram will skew older and may enjoy decent word-of-mouth — this is a pleasant, likeable little film — but the ceiling for this kind of mildly moving movie seems relatively low.
The film opens as Alan Clay (Hanks), a nondescript, recently divorced man who works in teleconferencing, is flying to Jeddah, where he'll meet with his IT team to prepare a high-stakes sales presentation for the king. Fighting jet lag, loneliness and career concerns — he appears to have bounced around jobs, and his current boss has put pressure on him to make this sale — Alan becomes friendly with a local driver (Alexander Black) and finds himself attracted to a doctor, Zahra Hakem (Sarita Choudhury), who is caring for a strange, worrisome growth on his back.
Reuniting with Tykwer, one of the directors on Cloud Atlas, Hanks gives an agreeably worn-down performance as Alan, a sweet, melancholy guy who hasn't had much luck in business or love. (Only his daughter, played by Tracey Fairaway, really seems to believe in him.) But Hanks doesn't portray Alan as a sad-sack — rather, he gives him a quiet decency and a nervously ingratiating demeanour, letting us see the friendly, upbeat face hiding the silent panic and insecurity underneath. The two-time Oscar-winner relies on old-fashioned movie-star charm, but he's never cutesy in the role, grounding his character's dilemma in relatable, offhandedly anxious moments.
In turn, Tykwer (who adapted Eggers' book) keeps the proceedings winningly small-scaled, never insisting that Alan's predicament is particularly urgent or tragic. And with the exception of a consciously over-the-top opening dream sequence in which the character sings his own version of Talking Heads' existential-crisis classic Once In A Lifetime, there's little showy in Tykwer's work. Instead, the director gently emphasises the drudgery and repetition of business trips: the bland pleasantries with hotel staff; the unending discomfort that comes from not sleeping in your own bed; and the tiny, consistent inconveniences that lack of reliably good food and Wi-Fi create.
Give Hologram credit for not resorting to Lost In Translation levels of fish-out-of-water comedy, resisting the urge to mock the "exotic strangeness" of a distant land. At the same time, Tykwer doesn't approach his Saudi Arabian setting with a patronising attitude, pretending that the country's foreignness will magically turn Alan into a better person.
Shot in Morocco, Hologram notes the harshness of Saudi Arabia's repressive laws without strongly condemning them. We get a sense of the gender inequality and the strict cultural mores, but as is often the case in a film where a Westerner travels abroad and is reinvigorated, Hologram is more invested in Alan's perspective on Saudi Arabia than on the country's actual inner workings. (For instance, his inability to get an alcoholic drink becomes a tame running joke. And Alan's driver enjoys freaking him out about the possibility of a car bombing.)
Alan's interactions with Zahra — who is elegant but also a bit reserved, wearing a hijab and not a burqa — spark in him a path toward new possibilities for his life. The two actors have a subdued, unhurried rapport, which somewhat helps sell a rather pat and forced love story that feels tacked on in Hologram's final stretches. But even here, though, the difficulties of their courtship created by Saudi Arabia's conservative customs are mere window-dressing for Alan's central focus on finding love.
The film's other supporting players do good work, albeit in service of life-affirming platitudes. (Black is a stereotypical foreign-buddy character who becomes the Westerner's amiable, wisecracking guide to the Middle East.) Sidse Babett Knudsen, recently seen in The Duke Of Burgundy, gives Hologram a sexy, sophisticated jolt as Hanne, who also is working in Saudi Arabia and feels an immediate connection with this American. It's a shame she has so little to do, although Hanne and Alan's unrequired love does add a poignant undercurrent to a tale of missed opportunities. But it's not hard to see where Hologram is going from its earliest moments, and although cast and crew bring tastefulness to a tired narrative, Alan's unconventional path to personal growth ultimately plays out pretty conventionally.
Production companies: Lionsgate, Roadside Attractions, Saban Films, Playtone, X Filme Creative Pool, Primeridian, Vingt Deux Heures Vingt Deux, WS Film, Silver Reel, Fabrica De Cine, Lotus Entertainment
US distribution: Roadside Attractions, www.facebook.com/RoadsideAttractionsFilms
International sales: Lotus Entertainment, www.lotusentertainment.com
Producers: Uwe Schott, Stefan Arndt, Arcadiy Golubovich, Tim O'Hair, Gary Goetzman
Executive producers: Steven Shareshian, Gaston Pavlovich, Claudia Bluemhuber, Irene Gall, Gero Bauknecht, Jim Seibel, Bill Johnson, Shervin Pishevar
Screenplay: Tom Tykwer, based on the novel by Dave Eggers
Cinematography: Frank Griebe
Production design: Uli Hanisch
Editor: Alexander Berner
Music: Johnny Klimek & Tom Tykwer
Website: www.ahologramforthekingfilm.com
Main Cast: Tom Hanks, Alexander Black, Sarita Choudhury, Sidse Babett Knudsen, Ben Whishaw, Tom Skerritt