Dir. J.A. Bayona. US/Spain, 2016. 108 mins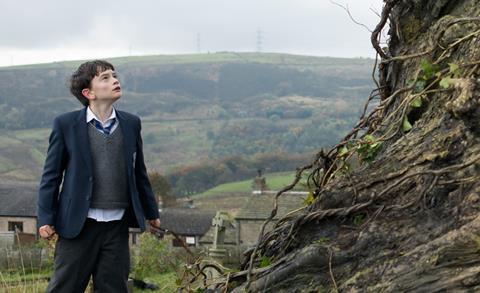 The sophisticated tween-fiction fantasy A Monster Calls is blessed by a harrowing supporting turn by Felicity Jones as a cancer-stricken single mother who puts on a brave face for the benefit of her adolescent son, the film's protagonist. Sadly, Jones's haunting performance can be occluded by the movie's visual excess. J.A. Bayona, the gifted Spanish director of The Impossible, deluges his story - albeit well acted and technically-flawless - with emotionally coded representational imagery and hectors the viewer with stylistic shifts, mood swings, and frantic pacing.
A Monster Calls is at its best in its raw emotional scenes
That's not to say his psychologically-based visual concept isn't warranted, or that A Monster Calls is an unworthy memorial to the young-adult author Siobhan Dowd. The writer of A Swift Pure Cry and Bog Child, Dowd devised the premise and created the characters for the film's "low fantasy" source novel. Fellow novelist Patrick Ness wrote it after she died prematurely in 2007, as he did the screenplay.
Feistily portrayed by pint-sized Scottish actor Lewis MacDougall, 12-year-old English northerner Conor O'Malley bears a heavy cross. He is repeatedly beaten by a school bully (James Melville) and drearily admonished by his understandably tense maternal grandma (Sigourney Weaver), who reluctantly installs him in her fastidiously appointed house when Mum stays in hospital. His dad (Tony Kebbell), who has started a new family in L.A., shows up to take Conor to an amusement park but proves a world-class flake.
Repressing the spectre of his mother's death, Conor starts having nightmares. They are triggered by his seeing 1933's King Kong, which he and Mum watch as a home movie unspooling on her late father's vintage projector – Bayona's almost-meta doff-of-the-cap to the power of celluloid. The ape colossus seeds in Conor's unconscious mind his nightly visitor, a bark-skinned giant sprung from the roots of a yew tree. It is disconcertingly similar to Treebeard, the ancient Ent leader first seen in The Two Towers episode of Peter Jackson's The Lord of the Rings.
Liam Neeson provides the booming voice and performance-capture for the barnstorming woody monster, which initially menaces the unfazed Conor but predictably becomes his guardian angel and moral instructor. He insists on telling three illogical fables to the boy to teach him that assumptions people make about others are often wrong, and that good and evil co-exist in most of us. A fourth tale – which he orders Conor to tell him – is not a tale at all, but the kind of self-discovery psychoanalysts try to elicit from their patients. The film has become such a pictorial maelstrom by the time Conor verbalises a home truth crucial to his coming of age that the moment is underwhelming.
Though the film is grounded in Conor's day-to-day reality, Bayona gives narrative parity to the visualised fables and the nightmare sequences – most notably the recurrent blasting to smithereens of a hilltop church, which suggests Conor must find faith within himself.
The abutting of Conor's conscious and unconscious states justifies the pullulating images, but the film's overwrought tone can grate. The provenance of the monster and the delicate watercolour-style rendering of the first fable, which tells of devious royals, is movingly unveiled in the film's low-key final scene, yet the fable's nouveau-storybook ambience clashes as much with the virtual look of the nightmare sequences as it does with the gloomy school, home, and hospital scenes.
A Monster Calls is at its best in its raw emotional scenes. Conor is charged by Grandma to touch nothing in her house, but his inability to save his mother unleashes his pent-up rage and he smashes everything within reach. Not the worst action he could take under the circumstances, it effects a change in Grandma's attitude to him that leads to a rapprochement and prompts a reconsideration of Weaver's hitherto unsympathetic presence.
Production companies: Participant Media, River Road Entertainment, Apaches Entertainment, Telecinco Cinema, Pelicula la Trini, Lionsgate
North American distribution: Focus Features, www.AMonsterCallsFilm.com
International sales: Lionsgate International, www.lionsgate.com
Producer: Belén Atienza
Screenplay: Patrick Ness, based on his novel
Cinematography: Óscar Faura
Production design: Eugenio Caballero
Editors: Bernat Vilaplana, Jaume Martí
Music: Fernando Velázquez
Main cast: Lewis MacDougall, Sigourney Weaver, Felicity Jones, Liam Neeson, Tony Kebbell, James Melville, Geraldine Chaplin