Director: Rodrigo Pla. Mexico, 2015. 76 mins.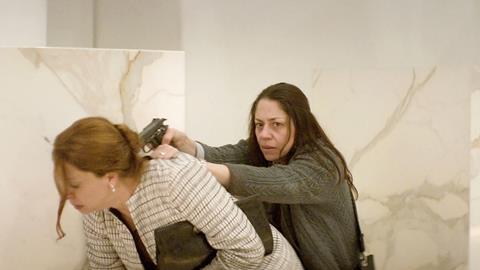 Eight years after his well-received debut feature, La Zona, Mexican-based Uruguayan director Rodrigo Pla is back with the most commercially viable of the three films he has made since then, a tense, sometimes bleakly comic drama of exasperation that once again dips into genre conventions to explore the 'us against them' social fault lines of contemporary Mexico.
The theme addressed here – being brought to the end of one's tether by intransigent, unresponsive welfare mechanisms – strikes a fairly universal chord
Theatre actress Jana Raluy excels in this all-in-one-day story of a desperate wife tipped over the edge by the faceless medical insurance machine that she believes is holding her husband's life in the balance. In a way, Monster recalls the Ricardo Darin segment of another recent Latin American film, Damian Szifron's Wild Tales, about the war of escalation fought by a citizen avenger after his illegally-parked car is towed away. But although Pla's film, adapted by Laura Santullo from her own novel, has its moments of bitter humour, it is far darker than that extended sketch, more interested in the indifference and corruption behind the bureaucratic triage practiced by certain public-private health systems, and more curious too about the inner lives and emotional states of its characters, both victims and perpetrators.
After its premiere in Venice, where it opened the Horizons sidebar, Monster looks set to tour a few other festivals before achieving a crop of arthouse deals. It helps that the theme addressed here – being brought to the end of one's tether by intransigent, unresponsive welfare mechanisms – strikes a fairly universal chord.
Raluy plays Sonia, the hot-tempered, devoted wife of a man who is dying of cancer. She's convinced that if only the doctor attached to her husband's medical insurers will authorise a radical new treatment to which she believes her partner is entitled, there's a chance he might pull through. With her teenage son Dario (Aguirre Boeda) in tow, Sonia waits for Dr Villalba (Albores) at the Alta Salud clinic, but when it becomes clear that the receptionist is covering for a busy man who has no intention of seeing her and no apparent interest in her husband's case, she and the reluctant Dario tail the doctor home.
Sonia doesn't have a plan at this stage, but she does have a gun – something that tempers our sympathy with a woman who, as the action escalates, begins to evolve from wronged victim of bureaucracy into crazed avenger. Luckily, Dario – sensitively played by Aguirre Boeda – is there to field our spare compassion as he finds himself torn between family loyalty and the increasingly unsettling and imperious demands his mother makes of him.
It's a nice premise, one grounded and lent empathy not only by a series of strong performances but by the script's point-of-view shifts – so that, for example, we also see the clinic stand-off through the overworked, put-upon receptionist's eyes. Further warning us against too easy an identification with Sonia and Dario as the only victims is the film's sometimes overly self-conscious use of shots through windows, doors and other distancing frames. Brilliant in its management of tension, Monster fails quite to wrap the themes of insurance-company corruption and collusion which are hinted at repeatedly both in the real-time story and in fragments of voice-over narration taken from the trial that, we assume, followed these dramatic events. But there's enough to bite into in this classily dark arthouse thriller to make up for such a small lapse.
Production companies: Buenaventura Cine, Rio Negro Producciones
International sales: Memento Films International, sales@memento-films.com
Producers: Sandino Saravia Vinay, Rodrigo Pla
Co-producers: Matthias Ehrenberg, Ricardo Kleinbaum, Luis Diaz
Screenplay: Laura Santullo
Cinematography: Odei Zabaleta
Editor: Miguel Schverdfinger
Production designer: Barbara Enriquez, Alejandro Garcia
Music: Jacopo Lieberman, Leonardo Heiblum
Main cast: Jana Raluy, Sebastian Aguirre Boeda, Hugo Albores, Nora Huerta, Daniel Gimenez Cacho, Emilio Echeverria