Dir/scr: Matthew Saville. Australia. 2015. 109 mins.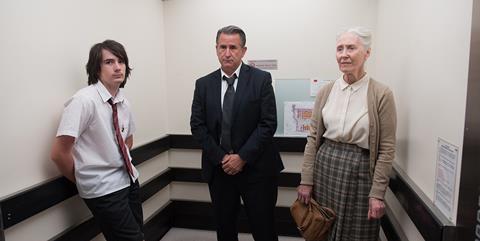 After exploring varying crime-oriented thrills in 2007's Noise and 2013's Felony, writer/director Matthew Saville retains his focus on character while gaining a lightness of touch as he moves into wryly comic, gently dramatic territory. His third feature may traverse well-worn notions of redemption and acceptance involving family and mortality; however strongly written parts — and good performances, particularly by lead actor and executive producer Anthony LaPaglia — enliven the film's brush with the familiar.
A Month of Sundays' mid-life crisis meets late-life regrets story is satisfyingly compex and well cast
Premiering in Toronto well ahead of its Australian release in 2016, A Month of Sundays starts softly, ambling through the existence of unhappy Adelaide-based real estate agent Frank Mollard. His misery begets company and comedy, as well as illuminating life lessons. The combination of a known star and knowing material should mark the art house circuit as the film's likely international destination.
LaPaglia plays Frank as a man who is equally caught in an unrewarding routine and cast adrift by recent upheavals. In his personal dealings, he is freshly divorced from successful TV actress Wendy (Justine Clarke), and struggling with how to co-parent his teenage son, Frank Jr. (Indiana Crowther). Professionally, he can barely hide his dissatisfaction with continually hosting open houses, attending auctions, and interacting with difficult customers — frustrations his boss Phillip (John Clarke), who constantly describes him as being "in a mood", is keenly aware of.
An unexpected phone call from his mother interrupts Frank's malaise, especially given the fact that she passed away the previous year. But the voice on the other end of the line actually belongs to retired librarian Sarah (Julia Blake), who dialled the wrong number while trying to reach her own son Damien (Donal Forde). A connection forged through such strange circumstances inspires the two to meet and form a friendship.
A Month of Sundays' mid-life crisis meets late-life regrets story is satisfyingly compex and well cast. His characters may tackle relatable issues, but they're never written or performed as wholly recognisable, with a dry sense of humour about both their predicaments crucial to the thoughtful film that results.
Indeed, the vulnerability evident in LaPaglia's calmly captivating turn, coupled with his deft delivery of droll lines, gets to the heart of the film's quiet charm, even if it does play out in elongated fashion. Never failing to temper its depiction of unfulfilled lives with dry amusement — witness an early moment that sees LaPaglia and Clarke's realtors march back and forth in a suburban backyard to avoid getting sprayed by a sprinkler — it hones in on bittersweet portrayals, with Blake similarly nuanced as the surrogate mother the film's protagonist didn't know he needed.
Elsewhere, Saville deploys Mark Wareham's gliding camerawork to capture Adelaide homes before patiently observing in long takes as the actors let the scenes unhurriedly play out. The shades of beige cinematographer Mark Wareham bathes much of the film in, juxtaposed with splashes of leafy greenery, offer a fitting reflection of the inertia initially felt and the blossoming sense of hope that eventually springs in this film.
Production companies: Madman Production Company
International sales: Visit Films info@visitfilms.com
Producers: Nick Batzias, Matthew Saville, Kirsty Stark
Cinematography: Mark Wareham
Editor: Ken Sallows
Production design: Robert Webb
Main cast: Anthony LaPaglia, Julia Blake, John Clarke, Justine Clarke, Indiana Crowther, Donal Forde.