Dir: Shola Amoo. UK, 2016, 74 minutes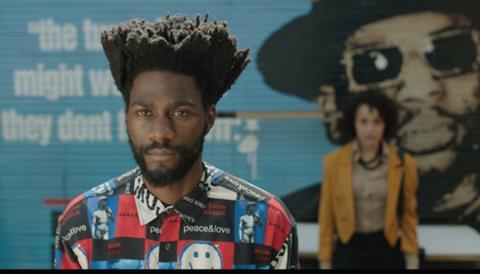 British filmmaker Shola Amoo bites into a meaty topic – urban gentrification – for his debut feature, combining documentary, scripted drama and performance into an innovative hybrid. This formally adventurous film is a creative risk that may fail to satisfy those looking for a definitive campaigning treatise on the subject, while the blurring of fact and fiction poses more questions than it answers. A filmmaker tour, with Amoo on hand to answer audience questions, would be the best outcome for UK exhibition.
Amoo's promiscuous approach to form and content positions A Moving Image as intriguing food for thought
Amoo and producer Rienkje Attoh, fellow graduates of the UK's National Film and Television School, took their inspiration from the rapid changes occurring in south London, where they both grew up. Standing in as a surrogate for the filmmakers is protagonist Nina (Tanya Fear), an actress who returns to a Brixton she does not recognise, after a spell living in east London. She soon determines to investigate gentrification – and resistance to it – by making a film that she ultimately presents as video art rather than political documentary.
Adding narrative content is Nina's evolving relationship with several characters, notably former best friend Isha (Hussina Raja), who agrees to help edit the footage, and two men – prickly performance artist Ayo (Aki Omoshaybi) and rising film star Mickey (Alex Austin) – who both take a romantic interest in her.
For some, Nina's personal journey, and a back story of suicidal depression, will feel like rather indulgent distractions. But the film scores by its steady determination to be even-handed to all parties. In clumsier hands, Mickey might be a callous yuppie, rather than a white working-class Londoner with dopily sincere intentions – who has, for good measure, been pushed out by earlier gentrification from the Bermondsey neighbourhood of his childhood.
Ayo is understandably angry that he's been evicted from a squat on the very road where Mickey has bought a home, but viewers might reflect that evictions are a regular hazard that squatters have traditionally faced.
The drama takes a further turn when Nina begins to consider that she might be more part of the problem than the solution – as suggested to her in rather didactic scenes featuring local community leaders. It's tempting to see the film at this moment as exorcism of Amoo and Attoh's own personal angst, although it's also a handy reminder that gentrification is a tricky topic.
A Moving Image finds a distinctive voice in a street busker character called Big Ben (musician Yinka Oyewole), whose composition "Sometimes These South London Streets Remind Me of Brooklyn" is performed in its entirety. It's also augmented by interviews with participants at a Reclaim The Streets protest in Brixton (later dismissed by one community organiser as merely a "street party"), and by video submissions from further afield, notably from fast-gentrifying Harlem and the Bed-Stuy neighbourhood of north-central Brooklyn.
Given a rather slender running time of 74 minutes, the danger here is that Amoo's promiscuous approach to form and content positions A Moving Image as intriguing food for thought, rather than a truly satisfying investigation or dramatisation of his subject.
Production company: A Moving Image Ltd
International sales: A Moving Image, info@amovingimagefilm.com
Producer: Rienkje Attoh
Screenplay: Shola Amoo
Cinematography: Felix Schmilinsky
Editor: Mdhamiri Nkemi
Art direction: Tamar Clarke-Brown
Music: Segun Akinola
Main cast: Tanya Fear, Hussina Raja, Alex Austin, Aki Omoshaybi, Yinka Oyewole, Yrsa Daley-Ward, James Hamilton, Joe Layton