Camille de Chenay flies in the face of cynicism to present a magical realist feature inspired by the work of Gustave Moreau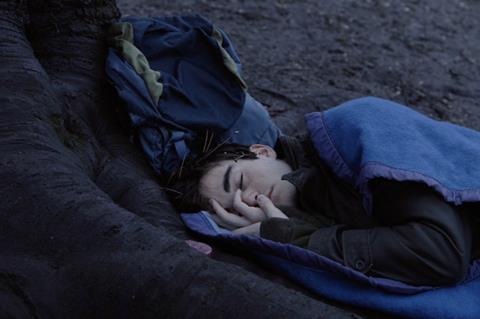 Dir. Camille de Chenay. France. 2020. 71 mins.
We might not generally think of magical realism as a constant in French cinema, but it nevertheless exists – and it certainly has its precursors in French painting. In her debut feature A Museum Sleeps, writer-director Camille de Chenay pays tribute to a visionary of 19th-century art, symbolist painter Gustave Moreau, while spinning a tale of present-day amour fou that shows that some of the most entrenched tropes of Gallic cinema refuse to die, even if they've been deconstructed time and time again. Flying in the face of cynicism, de Chenay offers a hyper-stylised hothouse drama that lacks focus and is defiantly gauche; yet on the plus side, she displays real brio in both visual and rhythmic invention, which should get her noticed as a stylist if not yet as a fully rounded auteur.
De Chenay shows manifest stylistic invention In a sharper-edged modernist register
Shot in Academy ratio, the film begins with a close-up of a young woman, Chloé (Nadia Tereskiewicz) breathily pleading for someone called Ornicar to return. We then see her young husband Ornicar (or as the English subtitles have it, 'Ornorso'), played by intense, vaguely Matt Dillon-ish Gary Guénaire, nervily scoping a block of flats where he's supposed to rendezvous with Chloé. She's not there, and he mopes off to spend the night in a Paris park, where the trees exchange wry comments about him in voice-over. A postcard of a Moreau painting leads him to the artist's cavernously atmospheric former studio in Paris's 9th arrondissement, now a museum of his work.
After visiting his aggrieved sister (Delphine Bechetoille), who gives him short shrift, Ornicar mopes around in a bar, where a group of cool-cat revellers dance to Roxy Music's 'A Song For Europe' and a young woman in a silver jacket seems to charm him into a hypnotic state, ripe for generating flashbacks. Eventually, in a lengthy nocturnal section, he tracks down Chloé to her parents' country home, where she has now acquired a dopey new beau (Arthur Verret, who gets one of the few genuinely amusing moments in the film).
De Chenay has clearly absorbed the sensibility of a certain Gothic/fantastic strain in French cinema – the scenes in the woods round Chloé's house carry echoes of Franju's Eyes Without a Face, there are hints of Cocteau in the talking trees and in the utterly oddball final image, and the do-or-die romanticism has more than a touch of Leos Carax (indeed, de Chenay worked as a camera assistant and stills photographer on his Holy Motors). In a sharper-edged modernist register, de Chenay shows manifest stylistic invention: notably, in a beautiful montage of shots of the Seine; in the intermittent, quasi-Godardian use of red, blue and green filters; and in some fine-tuned staccato editing crisply synched to Julien Breval's solo piano score (in a self-reflexive touch, we often see the piano itself).
All these flashes of capital-C cinema, however, don't quite add up to a cogent film and, even allowing for the film's defiantly old-school romanticism, Ornorso's moody, macho pursuit of Chloé feels decidedly out of step with contemporary sexual politics (especially as he all but strangled her when announcing that he needed to go off and find himself). Up-and-comer Tereskiewicz – who made such a terrific impression last year in Dominik Moll's Only the Animals - doesn't have much to work with as a somewhat airy princess figure, while as her questing knight errant, wild-eyed Guénaire is called on to simmer a little too hotly to be true. Frustratingly, the paintings of Moreau – occasionally scanned in close-up – don't get nearly enough of a look-in, their highly formal but febrile eroticism offering an aesthetic delirium that shows up to some disadvantage the rather more fragile preciousness of this film's vision.
Production company/international sales: Al Mar Films, camilledechenay@gmail.com
Producer: Camille de Chenay
Screenplay: Camille de Chenay
Cinematography: Maxime Bonan
Editor: Lison Talagrand
Music: Julien Breval
Main cast: Gary Guenaire, Nadia Tereskiewicz, Arthur Verret, Brigitte Buc, Emmanuel Salinger