Dir. David Evans, UK, 2015, 90 mins.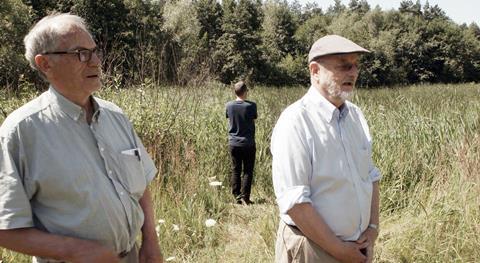 A bracingly rigorous examination of inherited guilt and pain, A Nazi Legacy – What Our Fathers Did is an extraordinary documentary written by the renowned human rights barrister Philippe Sands. In the course of his legal work surrounding The Nuremberg Trials, Sands came into contact with two elderly men, both the sons of high-ranking Nazis. In this documentary, directed by David Evans, he travels with them to Ukraine where it becomes clear their fathers were responsible for the annihilation of his own Jewish grandfather's entire family.
A Nazi Legacy – What Our Fathers Did comes to a climax in Lviv, but the film is a layered examination of brutality, self-deception, guilt and the nature of justice which is compelling throughout.
Thanks to Sands' legalistic approach, though, A Nazi Legacy is much more than an emotional showdown, traumatic though that undoubtedly is. One man protests his father's fundamental decency despite mounting evidence that he was responsible for slaughter on an industrial scale; the other despises his father so much he carries a picture of the dead man – hung at Nuremberg – in his wallet, "to be sure he is really dead, and to never forget what happened in Germany".
Made in association with the BFI and BBC documentary strand Storyville, A Nazi Legacy has already been picked up in the UK by Altitude from its Tribeca world premiere and other high profile acquisitions seem likely to follow suit. Audiences may feel that they have seen all they can manage about Nazi Germany and the holocaust. This proves they have not. Astute marketing should overcome any wariness to propel A Nazi Legacy – What Our Fathers Did to awards attention (despite its clunky title). This is an emotional yet cerebral piece of film-making which should live a long life on ancillary, at the very least as an educational tool, because there is much to learn here.
Sands asks what it is like to have grown up as the son of a mass murderer. Niklas Fank, the son of the "Butcher of Poland" Hans Frank, knows the answer. His father, executed at Nuremberg, was Hitler's lawyer, responsible for the ghettos and concentration camps in Poland and the death of three million Jews. Niklas loathes him. He remembers travelling to the Krakow ghetto in a Mercedes while his mother got out and shopped for bargain furs from desperate Jewish women. Horst von Wachter, born, like Niklas, in Nazi splendour in 1939, is the son of Otto von Wachter, who worked for Frank governing Galicia from Lemberg in Ukraine (now the city of Lviv), where 150,000 Jews were "resettled" in the space of two months in 1942.
But unlike Niklas, Horst is tentative, damaged, with a shy smile and a rambling manner. He identifies with the Jewish faith and lives in a crumbling castle in Austria without heating and without any real memory of his father. Yet, still, he can't bring himself to condemn Otto, who was indicted for mass murder but escaped to the Vatican, where he was sheltered by an Austrian cardinal and died in 1949. Fragile though he initially seems, Horst proves incredibly determined to resist the mounting evidence provided by Sands of his father's culpability. "I don't want to be here full of shame," he says.
"He will become a Nazi in the end," says Nilklas of his old friend. "The Austrians will like that."
Both men share personal documents, grimly-fascinating home-movie footage (including from the Krakow ghetto) and photographs from the time they lived as "princes of Poland" while, beside them, Sands looks on, his legal mind ticking over the guilt and the responsibility, if any, they do or should bear. Sands remains impressively dispassionate throughout, but his task becomes harder and harder as the distance between them vanishes. Their direct link to today's Ukraine is shocking on every level.
A Nazi Legacy – What Our Fathers Did comes to a climax in Lviv, but the film is a layered examination of brutality, self-deception, guilt and the nature of justice which is compelling throughout. Editing by David Charap is perfectly judged and this Wildgaze Films documentary avoids a sensational approach. Archive footage is chilling in its scenes of happy Nazi family life, but present-day footage is served straight, with a news-camera approach rather than a filmic sensibility, presumably not to distract from the revelations on screen.
Production company: Wildgaze Films
International sales: The Film Sales Company
Scr: Philippe Sands
Producers: Finola Dwyer, Amanda Posey, Philippe Sands
Executive producers: Philippe Sands, Nick Fraser, David Evans
Camera: Sam Hardy, Philippe Blaubach, Matt Gray
Editor: David Charap
Music: Malcolm Lindsay