Jean Stephane Sauvaire follows up Johnny Mad Dog with a tough Thai prison drama starring a knockout Joe Cole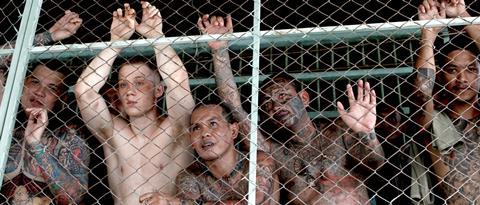 Dir. Jean-Stéphane Sauvaire UK/Fr, 2017. 117 mins.
Fists-punching, face-pulping, defiantly, flailingly unknowable and never willingly sympathetic, young British actor Joe Cole pounds his way through Jean-Stéphane Sauvaire's hard-edged Thai prison drama A Prayer Before Dawn. An adaptation of former Liverpool boxer and drug addict Billy Moore's memoirs, this film makes no concessions, much like its main character. With a visceral feel stretched and pumped by enhanced sound design and a tensile, trance-like score, Sauvaire's (Johnny Mad Dog) film is destined for cult appreciation and a breakthrough in the remarkable Cole's career.
Cole is fair-skinned and freckled, Irish in complexion, and Sauvaire repeatedly contrasts his milky, bruised skin against the extravagantly whole-body-tattooed Thai inmates.
If A Prayer Before Dawn straddles the genres – violent prison drama, boxing (of the Muay Thai variety) memoir and drug biography – it doesn't easily sit in any. All the plot clicks are there, from the prison rape to the compassionate 'ladyboy' to going cold turkey, relapsing and working up to a life-altering bout, but Sauvaire presents them in a resolutely non-standard way. A gruelling watch, this was picked up for US release by A24 (and Altitude in the UK) prior to Cannes where it should be embraced by urban crowds too young to remember (or care about) Midnight Express or to need a hero to explain himself.
Key to the film's success is the authenticity of its settings in Thailand, and of its completely non-professional cast outside Cole (the climactic final bout was shot in Cebu in the Philippines). The viewer is plunged into Southeast Asia in a way Only God Forgives dreamed of. David Ungaro's camera makes a virtue of tight, dark, enclosed spaces, shot through with suspicion and sweat. Like an Asian Carandiru, the prison bodies pile over each other, and Ungaro lights them naturally or makes a strumming virtue of the contrast with neon shared spaces.
The character of Billy is another reason to keep watch through the pulping violence: Jonathan Hirschbein and Nick Saltrese's screenplay never lets us know why he's in Thailand, boxing and selling drugs (as well as taking methamphetamines or 'yaba'), or where he came from. He's a self-sabotaging, violent addict though, and the camera swivels alongside his rage.
The forces which destroy Billy all come from within, but he also has some dangerous external opponents to contend with when he washes up in prison. The guards give him heroin, and so do the heavily tattooed roommates in the shack he's eventually confined to, a place where fear rules and Sauvaire declines to subtitle the Thai dialogue, putting us in the corner with Billy as one of the inmates is gang-raped.
His coping mechanisms are functional to the point of securing a drugs pipeline. Billy will batter people half to death for a foil. It's a problem which sees the shackled Billy repeatedly sent to solitary confinement and attempt suicide; even when he makes contact with the Muay Thai boxers at the prison and becomes the first Westerner to win a bout there, he can't stop himself. He uses the gentle Fame, a ladyboy in jail for murdering her father, but also falls in love with her a little. She herself is locked behind a separate set of bars within the prison, for clear reasons.
Cole is fair-skinned and freckled, Irish in complexion, and Sauvaire repeatedly contrasts his milky, bruised skin against the extravagantly whole-body-tattooed Thai inmates. Cole, best known for a supporting role in the TV series Peaky Blinders, gives everything to this role. It's a physical transformation in which he convincingly plays a beaten, battered-to-a-pulp boxer who learns the rules of Muay Thai, but also a deep internal reach to deliver a complex, defiantly self-sabotaging character with depth of understanding. Watch out for breakthrough awards.
The musical score is particularly effective, working tightly with sound design to amplify ambient noise into at times breathing, throbbing, occasionally punching, strained motifs, making A Prayer Before Dawn an wholly unsettling film.
Production company: Senorita Films
International sales: HanWay Films, info@hanwayfilms.com
Producers: Rita Dagher, Nicholas Simon, Roy Boulter, Sol Papadopoulos,
Executive producers: James Schamus, Jennifer Dong, Woody Mu, Peter Watson
Screenplay: Jonathan Hirschbein, Nick Saltrese
Cinematography: David Ungaro
Production design: Chaiyan Chunsuttiwat
Editor: Marc Boucrot
Music: Nicolas Becker
Main cast: Joe Cole, Billy Moore, Pornachanok Mabklang, Somluck Kamsing, Chaloemporn Sawatsuk, Komsan Polsan, Sakda Niamhom