Sandrine Kiberlain directs this French Occupation drama which plays out in Cannes Critics' Week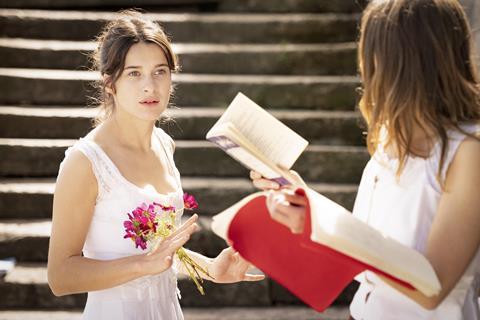 Dir. Sandrine Kiberlain. France. 2021. 98 mins.
The Occupation in Paris: we've been here many times before in French cinema, and one thing can certainly be said of Sandrine Kiberlain's debut feature as a writer-director is that she does it differently. Whether or not she does it well it is almost moot: there's plenty to engage in A Radiant Girl, not least a performance by Rebecca Marder which more than delivers (perhaps even too much) on the luminous promise of the English title.
Kiberlain's approach is naïvely inadequate
This is a film with some grace and exuberance, but a cavalier attitude to period verisimilitude only adds to the impression that, when it comes to facing ugly historical reality, Kiberlain's approach is naïvely inadequate. Her popularity as an accomplished actress will ensure the film some domestic leverage but elsewhere, modest festival attention is the likeliest prospect, especially where there's a historical or Jewish-interest specialism.
The film is set in Paris in summer 1942, where 18 year-old Jewish girl Irène (Marder, also seen in Arnaud Desplechin's current Cannes title Deception) is an aspiring actress, full of the joys of life. Mad about all things theatrical, she's working as a theatre usher while rehearsing Marivaux with a view to getting a conservatoire place. She's also discovering the joys of love, receiving declarations from one gauche young suitor (Jean Chevalier) while yearning for her stage partner Jo, then falling for a doctor's assistant (Cyril Metzger) – even pretending to have bad eyesight in order to revisit the clinic for prescribed glasses. She's also experiencing fainting fits, while practising stage fainting for her performances.
Irène's faints may be a symptom of her uncontainable soul. Her restless exuberance both infuriates and delights the members of her secular Jewish family – doting, careworn father André (the always more than dependable André Marcon), flautist brother Igor (Anthony Bajon, better with each role) and wise, bohemian grandmother Marceline (Françoise Widhoff). Things couldn't be rosier for Irène – in fact, the original French title is Une Jeune Fille qui va bien, 'a girl who's doing fine'. But perhaps her happiness is simply a form of denial, and she's simply dancing on the proverbial edge of a volcano.
Intimations of what lies ahead for French Jews come at first in incidental asides, then become more evident and threatening, as the family are obliged to hand in a radio, bicycle and telephone and eventually wear the yellow star on their clothes. Throughout all this, actual images of German presence in Paris are never visible – a decision of Kiberlain's that may be part of a defamiliarisation strategy, but that feels more baffling than obliquely suggestive.
It's never quite clear whether Kiberlain is deliberately flouting conventions of historical accuracy, skirting them for budget reasons, or simply being careless – and certainly, some of the hairstyles seem so manifestly not of the 40s that you can only assume that Kiberlain is playing games with us. But when the soundtrack goes for out and out anachronism – Tom Waits, electro-poppers Metronomy – it's hard to tell exactly what effect she had in mind, especially as these sounds sit so oddly with an otherwise traditional, Delerue-esque main score drizzled with klezmer-style clarinet.
The film is fuelled above all by Marder's highly appealing effusiveness as Irène – although you can have too much of a good thing, and you soon wonder how long it will take before history intervenes to curb Irène's enthusiasm. What happens at the very end is handled in a visual shorthand that could conceivably have worked in a stage production, but that here feels heavy-handed, and shows how little Kiberlain has prepared us for the inevitable payoff.
Overall, A Radiant Girl is highly theatrical, not so much in the acting styles but in its emphasis on the nature of stage performance – which often gets the film bogged down in backstage discussion of a sort that can too easily feel alienating to film audiences. This only adds to the awkwardness of a film that - especially in its treatment of one of the gravest topics in modern French history - ultimately feels as callow as its heroine.
Production companies: EDI Films, Curiosa Films
International sales: France TV Distribution, julia.schulte@francetv.fr
Producers: Olivier Delbosc, Pauline Duhault
Screenplay: Sandrine Kiberlain
Cinematography: Guillaume Schiffman
Editor: François Gédigier
Production design: Katia Wyszkop
Music: Marc Marder, Patrick Desreumaux
Main cast: Rebecca Marder, André Marcon, Anthony Bajon, Françoise Widhoff