The power of female friendship comes under the microscope in this accomplished second feature from Georgia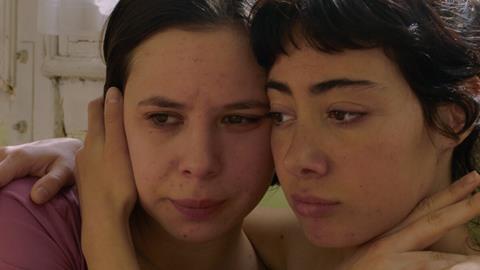 Dir: Ioseb 'Soso' Bliadze. Georgia/Germany. 2022. 107 mins.
The impressive recent run of form for Georgian cinema continues with A Room Of My Own (Chemi otakhi), the highly accomplished second feature by writer-director Ioseb 'Soso' Bliadze. Confirming the promise of his 2021 debut Otar's Death, Bliadze has composed a sensitive study of a meek 24-year-old woman's gradual emergence from her shell under the mercurial influence of a hedonistic flatmate. Further festival play is a given.
Becomes steadily more engrossing and rewarding as it progresses towards a neatly circular finale
Co-written with Taki Mumladze, who plays the main role of Tina, Room Of My Own is one of the first dramatic features to successfully incorporate the Covid-19 pandemic: its setting Tbilisi is a place of curfews and facemasks. The social distancing and atomisation that accompanies such restrictions adds a further psychological burden to Tina as she struggles to cope with the aftermath of a violent assault perpetrated by her then-husband.
The spouse, Datuna—frequently mentioned but never actually seen in the film—was motivated by jealousy on discovering that Tina was having an affair with his best friend Beka (Giorgi Tsereteli). As the film begins, Tina arrives in Tbilisi and moves in with a stranger, Megi (Mariam Khundadze)—a temporary measure until she and Beka can relocate to his mother's place. But when Beka unexpectedly breaks up with Tina (in a notably well-handled scene), she finds herself back under the same roof as the unpredictable, hard-partying Megi.
This arrangement may prompt memories of Silvio Narizzano's much-loved 1966 Swinging London film Georgy Girl, which made stars of both Lynn Redgrave and Charlotte Rampling in their respective roles of dowdy introvert and wild-child sex-kitten. Mumladze (who had a prominent supporting part in Otar's Death) and Khundadze (in her feature debut) are, in their way, no less impressive than their illustrious English predecessors. Their ups-and-downs—including interludes of intimacy which the mores of the times forbade Redgrave and Rampling from even approaching—are traced with genuine empathy, insight, humour and skill.
Not a great deal happens in A Room of My Own: the real drama has played out some months before the start of the picture's action. The stormiest confrontation —when Tina turns up at her estranged mother's funeral only to be aggressively rebuffed by a thuggish male relative—is presented at a conspicuous distance: shown in longshot through the window of a closed car-door with the sound almost entirely muffled as a result.
The effective but unshowy sound-design (by Irakli Ivanishvili) and cinematography (by Dimitri 'Dito' Dekanosidze) in this scene are representative of picture as a whole: handheld camerawork generally manages to find the right place to film each scene, including those many sequences that take place inside the compact Tbilisi apartment that Megi and Tina call home. Working as his own editor, Bliadze keeps proceedings moving at a steady clip and maintains engaging narrative impetus in a picture which becomes steadily more engrossing and rewarding as it progresses towards a neatly circular finale.
Production company: Color of May
International sales: Color of May, blondiau@colorofmay.com
Producers: Eva Blondiau, Ioseb "Soso" Bliadze, Elmar Imanov, Maisis Peri
Screenplay: Taki Mumladze, Ioseb "Soso" Bliadze
Cinematography: Dimitri Dekanosidze
Editing: Ioseb 'Soso' Bliadze
Main cast: Taki Mumladze, Mariam Khundadze, Sophio Zeragia, Lashao Gabunia, Giorgi Tsereteli, Ioseb "Soso" Bliadze