Dir. Julian Jarrold. UK, 2015, 97 mins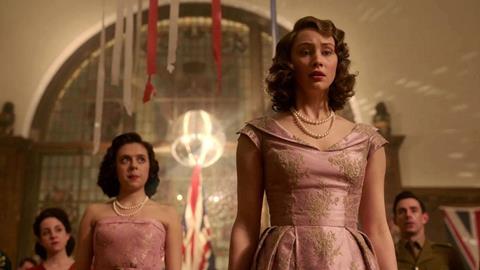 VE Day, May 8, 1945: London erupts in an extravagant city-wide street party, with almost six years of war and grief pouring out onto the streets. Famously, the two British princesses, Elizabeth and Margaret, were allowed to mingle in the crowds outside Buckingham Palace. But what if the Windsor girls managed to escape their royal cage?Are you hearing Benny Goodman yet? Well Sing, Sing, Sing along with director Julian Jarrold (Kinky Boots), who, working from a spec script by newcomer Trevor De Silva, puts the teenage Lillibet (Sarah Gadon) and Princess 2 (Bel Powley) lost and incognito on the streets of the city in a knockabout fantasy with a perfect, if palpably preposterous, pedigree for box office success.
Those expecting a King's Speech redux should be warned: A Royal Night Out is more Notting Hill meets Roman Holiday – but by way of Dad's Army. Bel Powley's divine 'P2' (the family nickname) owes a debt to Barbara Windsor ("I'm so cheesed!"), while her mother (Emily Watson) could "murder a G&T" and her father, King George VI (Rupert Everett), is told to "sit down Bertie!". With a nod to the future, the avid Tit Bits-reader P2 is even drunkenly delivered to Battersea in the back of a wheelbarrow; to say this is a broad comedy under-states its girth.
But A Royal Night Out is Best-of-British Blitz spirit – it was mostly shot in the Northern city of Hull, so it certainly has a cheek. Sold by HanWay, it opens in the UK on the anniversary of VE Day on May 8, when it will twist the nostalgia dial to the mass market in the UK. Its success will come in no small part due to the combined charm of its three young leads.
Produced by Ecosse Films (Mrs Brown, Nowhere Boy, Becoming Jane), A Royal Night Out is noticeably well-cast, with Canadian actress Sarah Gadon playing a luminous Princess Elizabeth (19 at the time) and Jack Reynor the working class airman she meets on an unplanned nocturnal excursion into Central London. Star in the making Bel Powley (MI High, soon to charm in Sundance hit Diary of a Teenage Girl brings an intoxicating giggle to 14-year-old Margaret's increasingly-unlikely series of mishaps (being slipped a mickey in a Soho knocking shop, for example) and seems to enjoy herself more than the rest of the cast and crew combined.
The premise for A Royal Night Out is simple and sketched in broadstrokes by De Silva and his collaborator Kevin Hood. The stammering King is preparing his VE speech to the nation but his teenage daughters, who have also been cooped up throughout the war, are restless. He relents, and allows them spend the evening at The Ritz. Margaret, in particular, wants to go out and dance the Lindy Hop in the Curzon Club and attend an "all nighter" at the Chelsea Barracks, although they detour via Lord Stan's in Soho where avid royalist Stan (Roger Hallam) runs a den of vice. "Oh golly!" says Margaret. "Wizard!".
In the Roman Holiday strand, responsible Elizabeth is separated from her crazy sister and meets a handsome working class airman (Reynor) who has gone AWOL. He doubts whether everything he has fought for can change such a class-ridden society as Britain. She's never met anyone like him. They search for Margaret through Trafalgar Square and on to Soho and eventually Chelsea on a riverboat; it's quite romantic (Reynor and Gadon make an attractive couple) and a little geographically-muddled, although A Royal Night Out was actually shot in Trafalgar Square in parts as well as the Strand and The Mall, which is no mean feat. Interiors of Buckingham Palace were filmed at Chatsworth House and Belvoir Castle, while The Ritz is actually The Metropole in Brussels (it's clearly not The Ritz, but it still looks just right). There's a jazzy air throughout and the sound of the dance halls resonate.
A Royal Night Out is efficiently shot by Christophe Beaucarne (Coco Chanel) – as most of the film takes place at night, it's a tough task to make it look varied and interesting throughout and production designer Laurence Dorman's presentation of a night of revelry in war-ravaged London gives the cameraman much to work with. Although it's set over one night with minimal changes, costumes are good. This film clearly isn't lavishly-funded, but like Britain at the time, it made do.
A Royal Night Out comes in at a brisk 98 minutes, although a preposterous and lengthy ending (a fry-up at the Palace!) can feel like a step too far – one expects Stephen Fry to drop in proffering Gin and Its. But really, it turns out to be just more icing on what Margaret might have called a "very wizard" cake.
Production company: Ecosse Films
International sales: HanWay Films
Producers: Robert Bernstein, Douglas Rae
Screenplay: Trevor De Silva, Kevin Hood
Cinematography: Christophe Beaucarne
Production design: Laurence Dorman
Editor: Luke Dunckley
Casting: Sam Taylor
Costume design: Claire Anderson
Main cast: Sarah Gaydon, Jack Reynor, Bel Powley, Emily Watson, Rupert Everett, Roger Hallam.