Dir. Hans Petter Moland. Norway. 2010. 107mins.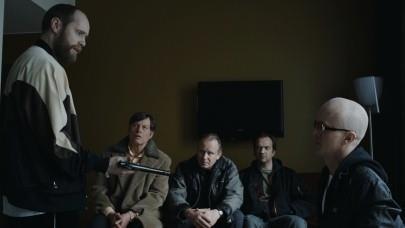 Norwegian director Hans Petter Moland and Swedish actor Stellan Skarsgard are a match made in cinema heaven. They have worked together before, on Zero Kelvin (1995) and Aberdeen (2000), and presumably have a shorthand. In the criminal comedy A Somewhat Gentle Man they achieve a cool, deceptively simple minimalism which is both perfectly timed and brilliantly pared-down.
Hans Petter Moland's style never impedes on the humanity of his characters and his affection for them is never in doubt
Although the characters speak Norwegian, A Somewhat Gentle Man should register as a specialty item wherever humour is appreciated. The film is so rich visually and aurally that it could be appreciated even if the dialogue were removed. Chaplin would have embraced it.
Ulrik (Skarsgard), the gentle man of the title, is a mechanic who has just been released from prison, where he served 12 years for murdering his wife's lover. No hardened criminal, he is more a quiet observer than a participant in life.
Most of the characters here are lowlifes, including the untrustworthy Rune (Floberg) and Rolf (Eidsvold), whom Rune bosses around shamelessly for humorous effect. Karen Margrethe (Kjellsby) is Ulrik's vulgar landlady, who, wearing dark knee-high stockings that decimate any sex appeal she might have, demands that Ulrik service her while she shouts out religious terms. Ulrik's boss, Sven (Sundquist), suffers from verbal diarrhoea.
The better adapted ones, like Ulrik's grown son, Geir (Roise), Geir's pregnant partner Silje (Wiig), and pretty young Merete (Kruse), who works in Sven's auto repair shop and commences an affair with Ulrik, are essentially dull. Moland's heart is with the marginalised, the idiosyncratic. The resilient Ulrik is an exception. The fact that he doesn't make waves presents a space for others to act out their neuroses. The plotline of his searching for the man who turned him in is no more than a device to keep everything else flowing.
A Somewhat Gentle Man's soundtrack contains some of the most memorable sound bridges in recent memory. The mélange of melodies includes Patsy Cline (Crazy and I Fall To Pieces) as well as high-energy music with a Latin beat, not to mention songs like Angels Of The Morning. Yet Moland does not let this postmodern blend overwhelm his shots or his narrative. In one hilarious scene, an arhythmic Ulrik tries to dance alone to the Latin music. In case anyone hasn't realised it, Skarsgard is an excellent physical comedian.
Whatever mistakes he has made in the past, Ulrik is a wise man of principle. Ultimately, he chooses life over death, affirmation over negation. Moland's style never impedes on the humanity of his characters, even the weirdest of them. They may be out there, but the director's affection for them is never in doubt.
Production company
Paradox Rettigheter AS
International sales
Trust Nordisk
(45) 36 868706
Producers
Stein B Kvae
Finn Gjerdrum
Screenplay
Kim Fupz Aakeson
Cinematography
Philip Ogaard
Production design
Gert Wibe
Editor
Jens Christian Fodstad
Music
Halfdan E
Main cast
Stellan Skarsgard
Bjorn Floberg
Gard B Eidsvold
Jorunn Kjellsby
Jan Gunnar Roise
Jannike Kruse
Bjorn Sundquist
Julia Bache Wiig