Filmmaker Mikel Cee Karlsson profiles a close friend with an extraordinary secret life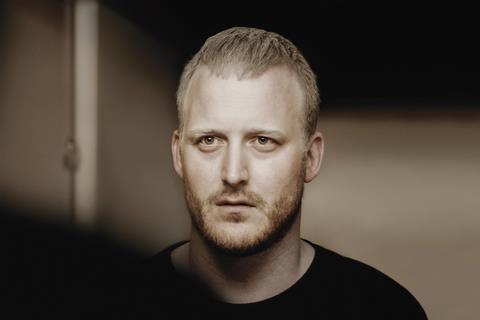 Dir: Mikel Cee Karlsson. Sweden. 2019. 99mins
How well can we truly know the life of someone we may even count among our closest friends? Mikel Cee Karlsson confronts that question with the melancholy documentary/drama hybrid A Stranger (Fraemling) in which he tries to piece together the hidden world of a childhood friend. A very personal response to a tragic tale, the film has echoes of Bart Layton's American Animals and could intrigue audiences drawn to stories of crime and true life mystery. It's best to know as little as possible about the story in advance.
Karlsson had known Mathias since childhood. A hard-working father of two, Mathias had grown increasingly paranoid before belatedly confessing to some of the strange turns in his recent life. Despite appearances of an unremarkable existence, Mathias has been acting as a debt collector for a violent criminal gang. He traces his involvement with the gang back to an armed robbery on the office where he once worked and the moment when "all hell broke loose". Karlsson shows the black and white CCTV footage of the robbery and shoot-out with the police, as if to underline the seriousness of the situation.
As Mathias lifts a tiny corner of the curtain that has concealed his double-life, Karlsson decides to collaborate with him in turning his experiences into a film. Mathias agrees to recreate some of the incidents as a form of confession-cum-therapy. He films Mathias reading aloud a planned suicide note and then breaks the spell to emerge from behind the camera to comfort him and share their tears at the raw emotions it unleashes. He also interviews Mathias's parents, choosing to leave the camera fixed on the listener rather than the speaker as they react to revelations and fresh twists. "I don't understand a thing, " declares his understandably bemused father.
In February 2015, Mathias died suddenly, unexpectedly of natural causes. Karlsson is left bereft, and even more driven to discover what had really happened to his friend during the last five years of his life. His therapeutic film transitions into a private investigation with an actor hired to play Matthias in reconstructed scenes, and interviews with other people who also mistakenly thought they knew him well.
We edge towards the heart of the matter with an account of the lies, half-truths and evasions that Mathias traded in to protect his family. He seemed able to compartmentalise his life, working, caring for his children and being with friends who never sensed how dark and dangerous his world had become. One friend remarks that he told "individual pieces of his story but never enough for anyone to get the whole picture".
A Stranger becomes more flinty and noir-like as it unfolds. The fatalistic air is enhanced by the film's shadowy look and the brooding menace of the music score. It is a compelling story, but we are left with many questions of our own. The friendship between Karlsson and Mathias is taken at face value and never explained. We learn that Mathias was convicted of fraud, and yet still no alarm bells rang among his friends. Ultimately, Mathias remains something of an enigma, just as he did to those around him.
Production companies: Plattform Produktion
International sales: Swedish Film Institute registrator@sfi.se
Producer: Erik Hemmendorff
Cinematography: Mikel Cee Karlsson, Peter Toggeth Karlsson, Christian Jonsson
Editor: Mikel Cee Karlsson
Music: Hans Appelqvist
Main cast: Ulf Stenberg, Arvin Kananian, Leif Edlund