A teenage boy struggles with a move from Paris to Morocco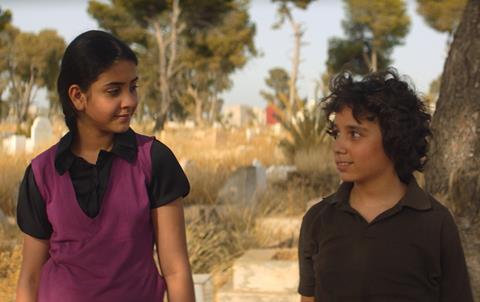 Dir/scr: Omar Mouldouira. Morocco, France, Belgium. 2022. 80mins
The first churning years of adolescence are hard to navigate at the best of times. But for 13-year-old Karim (Yassir Kazzouz), uprooted from Paris following the death of his mother and on the margins of his father's new family in Boujad, a small town in central Morocco, it's particularly challenging to establish his place in the world. Perceptive and precise in approach, this impressive feature debut from French director Omar Mouldouira evocatively captures the upheaval of life as an unrooted child on the cusp of adolescence.
Mouldouira has a keen eye for small but telling details
Paris-born Mouldouira cut his teeth as a sound engineer, before making a series of Morocco-set short films and a TV documentary series. A Summer In Boujad is a confident step up to feature filmmaking, with a vivid sense of time – the story unfolds in 1986 – and place. The performances, particularly from the younger cast members, are persuasive. While perhaps not distinctive enough to assert itself in the competitive theatrical market, it could enjoy a healthy run on the festival circuit following its premiere in competition at the Red Sea Film Festival.
Karim's father, Messaoud (Hatim Seddiki) has roots in the dusty desert town of Boujad. Even when he left with his family to try and make a life in France, he would return each year laden with gifts; the villagers nicknamed him "Summer Santa Claus". But his son, raised in Paris for most of his childhood and educated in a French-speaking boarding school in Casablanca, is an outsider. And all of his academic accomplishments amount to very little when he can't read enough Arabic to be able to locate his mother's grave in the local cemetery.
Communication failures don't stop with his rusty Arabic, however, and Karim's brief friendship with a gang of local boys is abruptly curtailed when he oversteps and breaks the social codes that he hadn't quite grasped. Meanwhile, he is drawn to Mehdi (Ahmed Elmelkouni), the neighbourhood bully, whose anger at the world chimes with something that Karim hasn't quite been able to name in himself. Torn between a childlike need for approval from his distant father and a fractious teenage urge for rebellion, Karim spends his summer holiday ricocheting between bad decisions and dubious life choices.
Not surprisingly, Mouldouira builds a textured backdrop of sound and score, the latter filled with tumbling, airy musical motifs, the minor key echoing Karim's questions about his life. But Mouldouira also has a keen eye for small but telling details. With the World Cup approaching, Karim is questioned about who he will support, France or Morocco? When the fateful game between the two countries arrives, Karim is thrilled. Not from the football, but from the fact that he, not his favoured younger half-brother, has secured the place sitting next to his father.When Morocco scores, Messaoud grabs his son's hand triumphantly. And for a moment, Karim looks as though his life has peaked.
The jubilation – and the moment of father-son harmony – is short-lived however. "My father doesn't see me, he watches me," complains Karim, who seeks an older male role model in the lawless, rebellious Mehdi. For his part, Mehdi schools the young boy in petty crime and street smarts, but any friendship is shadowed by the social differences between the two of them – Karim's paler skin and education means that punishment for their shared misdemeanors falls squarely on Mehdi's shoulders. Yet the film's slightly heavy-handed conclusion, though reliant on a chance encounter and a chunk of exposition, strikes a note of welcome optimism.
Production company: Awman Productions
Contact: Awman Productions contact@awman-productions.com
Producer: Mohamed Nadif
Cinematography: Jean-Marc Selva
Production design: Samir Issoum
Editing: Michel Klochendle, Omar Mouldouira
Music: Simon Fransquet
Main cast: Yassir Kazzouz, Hatim Seddiki, Laila Fadili, Azzelarab Keghat, Ahmed Elmelkouni, Adam Morjani, Hiba Aouad