Leila Bouzid closes out Cannes Critics' Week with this likeable Paris-set love story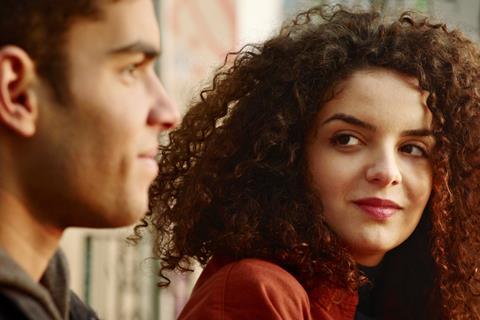 Dir/scr: Leyla Bouzid. France. 2021. 102 mins.
One of the most telling moments in Tunisian director-screenwriter Leyla Bouzid's second feature, which closes Cannes' 2021 Critics, Week, comes when Ahmed, a bright young French kid who has secured a place to study literature at elite university La Sorbonne, is asked by a girl he fancies – fellow student Farah – to show him around his home town. She's from Tunisia, and might reasonably expect Ahmed to know his way around Paris just as she knows her way around Tunis. The problem is that Ahmed grew up in and still inhabits a distant suburban 'banlieue' so far away from the centre that he has to get up at the crack of dawn each day to travel in for his course. So he does what any tourist would do: he googles "what to see in Paris".
Warm, passionate and sexy in a well-read kind of way
On one level, this small but likeable film is a late-teen boy-meets-girl tale with shades of Normal People, charting the difficult course of a student romance from the initial spark through difficulties and setbacks to resolution and consummation. But A Tale of Love And Desire also has plenty to say about how a generation of young French men from North African Muslim backgrounds deal with issues of national identity, personal ethics and sexual politics. While these topics will speak most directly to French audiences, Bouzid's film is also warm, passionate and sexy in a well-read kind of way – a surefire route to wider arthouse acceptance.
A grey dawn is breaking over a Parisian suburb when Ahmed (Sami Outalbali) sets out for the first day of his degree course from the high-rise apartment he shares with his carer mum and former journalist dad, who left their native Algeria in the early days of the Civil War. Aged around 18 or 19, he's an observer, wary, shy, unsure of himself yet at the same time arrogant, not to say bigoted, in some of his opinions – as when he tells Farah that The Perfumed Garden – a 15th century Arabic erotic classic – "is not real literature".
A Tale of Love And Desire imagines a comparative literature course at the Sorbonne that focuses on the rich Arabic tradition of writing about love, sex and desire, one brushed under the carpet by fundamentalists who believe, to paraphrase Ahmed, that "that's not real Islam". In this entwining of teenage lust, the identity of kids growing up in the Parisian suburbs and 'serious' literature, Bouzid's second feature is sometimes reminiscent of the work of another Tunisian-born director, Abdellatif Kechiche's – particularly Games Of Love And Chance. Though they are very different, both directors are keen to celebrate and legitimise sexual desire in the Arab world.
One of the great paradoxes explored by A Tale Of Love And Desire is the fact that it's the Tunisian girl who is the liberated one, ready to admit desire and uncomplicatedly embrace it, while it's the French boy – whose mates are constantly boasting about or dreaming up sexual exploits – who is the one paralysed by his own attraction for Farah. For once, the man is 'la gazelle' to be courted and even sexualized. Beginning with an opening shower shot, the camera is Farah's ally and accomplice, dwelling on Ahmed's body, face and lips. The one objection one might make of the way the film enacts its themes is that the script feels a little overwritten, with every scene needing to make a point – something that puts a more mature stamp on a work that might have merited a more fluid and freewheeling approach, more in line with the uncertain age it depicts.
Production company: Blue Monday Productions
International sales: Pyramide International, sales@pyramidefilms.com
Producer: Sandra Da Fonseca
Production design: Lea Philippon
Editing: Lilian Corbeille
Cinematography: Sebastien Goepfert
Music: Lucas Gaudin
Main cast: Sami Outalbali, Zbeida Balhajamor, Diong Keba-Tacu, Aurelia Petit, Mahia Zrouki, Bellamine Abdelmalek, Mathilde La Musse, Samir Elkahim, Khemissa Zarouel, Sofia Lesafre