Dir. Stephane Brizé. France/Belgium, 2016. 119 min.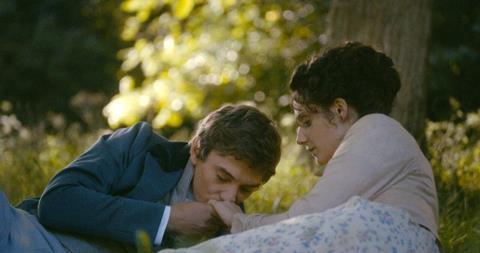 For Stephane Brizé, best known of late for his 2014 Cannes award-winning The Measure Of A Man, A Woman's Life (Une Vie)is a quantum leap from realist, mostly socially conscious contemporary dramas to the heart of the Romantic period of the 19th century. However, in a strange way, Brizé remains faithful to the same kind of film he has always made: realistic, shot entirely with a handheld camera, his actors conducting themselves as if the period costumes they wear are their everyday attire. Its classic 1:1.33 frame even suggests this might have been a documentary taken on the spot, had there been any cameras back then.
Judith Chemla is a perfect choice for the lead
Critical opinions may diverge, and it remains to be seen how audiences weaned on huge wide-screen photography, vast lavish sets and stentorian performances for their costume dramas will react. Based on the Guy de Maupassant novel and with MK2 behind it, A Woman's Life is certain to be seen widely in Francophone territories, though reception beyond may be more of a challenge.
The first part of the Maupassant's work was adapted in 1958 for the screen by Alexandre Astruc with Maria Schell in the lead (and also premiered at the Venice Film Festival). Brizé, going back to to the source, chooses to follow his main character, Jeanne (Judith Chelma), just like novel did, from the age of 20. For the next 27 years of her life she is gradually deprived of all the illusions such a young, well-bred, wealthy and handsome young woman was entitled to have back then. But to squeeze in all that information and still stay within a two-hour running time, Brize has had to adopt a kind of shorthand language, featuring the novel's most relevant highlights.
This may do justice to the book and its intentions, but not entirely to its keen, precise, richly imaginative perception of the characters and the period.
Jeanne le Perthuis de Vauds, the daughter of a country baron (Jean-Pierre Daroussin), educated in a convent, marries Julien de Lamare (Swann Arlaud), scion of a destitute but noble family. She is happy, lively and full of hope when the marriage is contracted, but after a few months she discovers her husband is sleeping with her maid Rosalie (Nina Meurisse), and later, after pretending contrition, with the wife of a another member of the local gentry.
Widowed, after the wronged husband kills Julien, she goes back to live with her parents and is devastated to discover, after the death of her dearly beloved mother (Yoland Moreau), that she had betrayed her father in her youth. Devoted to her son, Paul (Finnegan Oldfield) whom she spoils silly, she will gradually lose all her possessions, including the family manor, to pay for his debts after he leaves home.
Having lost control of her senses, she is taken in by the former maid who once betrayed her and now lives on a farm that was once in the possession of her family.
With the intention of illustrating the novel's theme that life is never as good or bad as it seems, Brizé seems to juxtapose every happy moment with a sad one, and vice-versa, throughout a story told in flashbacks and flash forwards, piously sticking to Jeanne's p.o.v. but never quite inviting the viewer to identify with her or any other characters in the story.
Using the small classic frame keeps the entire story boxed in, turning the film into something akin to a study in close-ups, the camera never more than a few feet from the characters themselves.
Judith Chemla is a perfect choice for the lead, whether she is exuding happy expectancy from life as a young girl, stubbornly standing by her hopelessly spoiled brat when she shouldn't, or gradually losing her mind towards the end. And just like Maupassant suggested in his title, she never plays a heroine, for this is not supposed to be 'the life of'… but just 'a life'.
Production companies: TS productions
Producers: Mylena Poylo, Gilles Sacuto
Sales: MK2, Juliette.schrameck@mk2.com
Screenplay: Stephane Brizé, Florence Vignon
Cinematography: Antoine Heberle
Editing: Anne Klotz
Production design: Valerie Saradjian
Music: Olivier Beaumont
Cast: Judith Chemla, Jean-Pierre Daroussin, Yolande Moreau, Swann Arlaud, Nina Meurisse, Olivier Perrier, Clotilde Hesme, Finnegan Oldfield