A provocative, transgressive love story starring Lima Das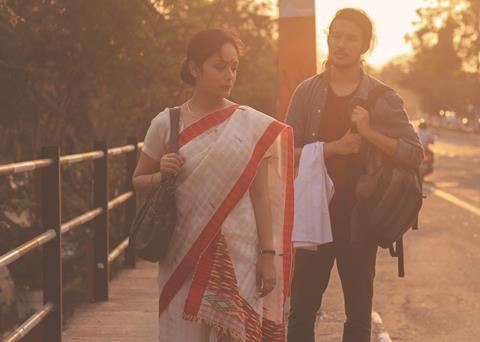 Dir/scr Bhaskar Hazarika. India. 2019. 108 mins
If ever a film charms to deceive it is Aamis (Ravening). What begins as a sweet, old-fashioned, slow-burn of a romance takes an abrupt lurch towards the gruesome. Writer/director Bhaskar Hazarika successfully disarms the viewer but what happens in the third act could repel as many as it enthrals. Festivals and genre labels will bite for something subtle and offbeat but commercially this tale of "amour fou" may remain a tricky proposition.
There is an echo of The Lunchbox in a film that also boasts the kind of corporeal horrors that might once have attracted David Cronenberg
Hazarika, director of folk horror anthology Kothanodi (2015), carefully sustains control of his gentle narrative over the first hour of the film. Taking a lead from the Ernst Lubitsch/Billy Wilder textbook of "meet cute" tropes, he engineers an unusual first encounter between pediatrician Nirmali (Lima Das) and PhD student Sumon (Arghadeep Baruah). Seeking help for a sick friend, Sumon persuades the older women to treat what appears to be a case of food poisoning. Sumon is a member of a Meat Club with a taste for the adventurous. They pride themselves on buying, slaughtering and cooking everything fresh.
Sumon pays the doctor's fee with a sample of their latest tasty dish. A friendship develops that unfolds in attractive locations around the city of Guwahati in Assam. Nirmali is bored and lonely thanks to an inattentive husband who frequently works far from home. She is flattered by the attention and Sumon is completely smitten. A hint of a romance grows as the couple bond over food.There is no physical intimacy between them. The relationship is placed in a straitjacket by the moral quandaries surrounding even the possibility of an affair between a married woman and a younger man. Repressed desire finds an outlet in shared meals of wild rabbit, squab cooked in banana blossom and catfish with colocasia.
The delicate, decorous nature of the relationship is sweetly captured. Hazarika encourages our investment in the couple and how they might engineer a future together. Affection is expressed in shy smiles and lingering glances. Arghadeep is particularly good at conveying the doe-eyed devotion of Sumon. There is an echo of The Lunchbox in a film that might, initially at least, beguile food lovers and incurable romantics alike.
When Sumon devises an unusual means of proving his body-an- soul commitment to Nirali, the film ventures into very different territory. There are elements of the kind of corporeal horrors that might once have attracted David Cronenberg. There is a real sense of expectations being blindsided and Hazarika is to be commended for the way he avoids the visceral or the sensational. His careful construction of the romance is designed to normalise what subsequently happens and win our sympathy for the couple. How the story then develops does feel rushed, though, and not entirely convincing. The sudden transformation in Nirali takes some swallowing and leaves Lima Das struggling to make the character's actions believable.
Hazarika is an accomplished storyteller with an engaging talent for well-crafted, unusual fare but this provocative, transgressive love story just never quite adds up to an entirely satisfying whole.
Production companies: Signum Productions, Metanormal, Wishberry Films
International sales: Shyam Bora, Metanormal Motion Pictures shyambora7@gmail.com
Producers: Poonam Deol, Shyam Bora
Cinematography: Riju Das
Editor: Shewta Rai Chamling
Music: Quan Bay
Main cast: Lima Das, Arghadeep Baruah, Neetali Das