Zachary Quinto produces and stars alongside Jon Hamm in this tale of family dysfunction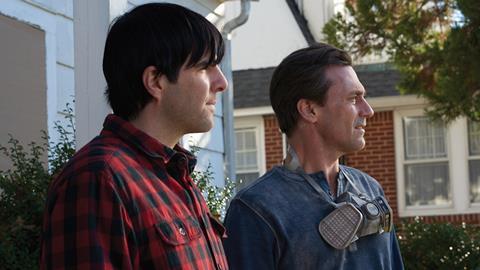 Dir. Brian Shoaf. US. 2017. 88 mins
It's hard enough to be a schizophrenic, but it's even harder when your therapist is sleeping with your dazzlingly handsome estranged brother - or are you just hallucinating? Aardvark has an alphabetically-savvy title that can't help but put this feature debut by Brian Shoaf at the top of some lists. And having Zachary Quinto (who produced) in the cast along with John Hamm could get Aardvark the initial attention that independent filmmakers covet. Hitchcock's Spellbound meets earnest Sundance sentimentality in this four-hand drama about sibling estrangement and childhood memories. Yet Aardvark plays like a low-budget theatre piece, and often looks like one.
Aardvark will remind audiences of how hard it is for a hyper-recognisable star to play new characters.
Josh (Quinto) is in therapy and he needs it. He's barely employable, but he has a more serious problem. He sees his estranged brother, Craig (Jon Hamm), in people who accost him in the street. For his hallucinations and other ills, he receives therapy from Emily (Jenny Slate), a dutiful practitioner. But when Emily meets the older brother, a famous heart-throb actor, she is unable to resist the temptation to sleep with him.
Conflicts rage as the brothers fight with the past and each other through Emily. And Josh can barely connect with the pleasant Hannah (Sheila Vand), a well-meaning stranger whom he encounters. The drama sets up a psychological dead end, with doleful strings tracking the emotions. Without giving the ending away, old-fashioned brotherly love eventually achieves what therapy and pharmacology can't.
The film's title conjures up a strange reclusive animal with the odd name, which we see in blurry flashbacks of a visit to the zoo by the two brothers. It is indeed a strange creature, which seems right out of the paintings of Hieronymus Bosch. Yet the relationship between the siblings is less strange than familiar – they are bruised by the differences between them, by Josh's mental struggles and by death of their parents. The syndromes are ordinary, even by soap opera standards.
If Josh played by Quinto is the shyly awkward aardvark child, his hair and an oddly-striped sweater seem drawn from somewhere else, the signature whacky world of Jim Carrey's crazy days. That nerdy affect seems intended to heighten contrasts between Josh and the chiseled Craig, a heartthrob from the cast of a series called South Street Law. Let's just say that Quinto's role requires more acting than Hamm's does. It will remind audiences of how hard it is for a hyper-recognisable star to play new characters.
Brian Shoaf does not break any new ground in Aardvark (besides featuring an actual aardvark in an independent film), yet his pairing of stalwart female characters with troubled men is a welcome twist of gender stereotypes. He has conceived of a title to set himself apart, although it probably would have worked better with a comedy. Next, he can concentrate on the rest of his movie.
Production companies: Before the Door Pictures, Great Point Media
International sales: Great Point Media john@greatpointmedia.com
Producers: Neal Dodson, Susan Leber and Zachary Quinto
Executive producers: Robert Halmi Jr., Corey Moosa, Jim Reeve, Brian Shoaf
Cinematography: Eric Lin
Editor: Marc Vives
Music: Heather McIntosh
Main cast: Zachary Quinto, Jenny Slate, Sheila Vand, Jon Hamm