A solitary man develops a super-computer in this strikingly ambitious British animation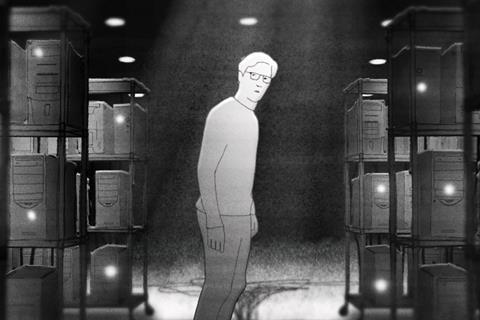 Dir/scr: Ryan Braund. UK. 2021. 71mins
A passion project for writer/producer/director/animator Ryan Braund, Absolute Denial achieves an impressive fusion of ideas and artistry. A hand drawn Frankenstein-style story from the age of Artificial Intelligence, it blends the Twilight Zone spirit of 1960s science-fiction with the paranoia of classic B-movie film noir. The story may falter at points, but this is still a considerable achievement deserving of its showcase at festivals in Annecy, Shanghai and beyond.
A constantly intriguing handcrafted, low-budget work charged with energy and ambition
Braund makes the most of his monochromatic palette, creating a graphic novel world of light and dark. Computer screens and open doorways illuminate scenes with squares of blinding white, pools of light envelope the leading character and there is detail in a cracked windscreen or the outline of a white bird in the sky.
Geeky computer programmer David Cohen (voiced by Nick Eriksen) is as earnest and focused as any mad scientist. David believes that the human brain is an inadequate design that could be improved by the creation of a super computer. Fuelled by coffee, ambition and seemingly limitless resources, David fills a warehouse with stacks of processors as he sets about making his vision a reality. Abandoning friends and loved ones, and using a "power supply equivalent to a small apartment block", he starts downloading every possible resource on mathematics, literature, astronomy and more. He creates a computer that can absorb all this information and generate its own superior intelligence. He also devises an "absolute denial" protocol to ensure that humanity retains control over his creation.
Evoking the music of Tangerine Dream and John Carpenter, Troy Russell's score adds a sense of urgency to the proceedings, lending momentum to a film that is initially dense with voice-over explanation. Absolute Denial is at its most engaging when the computer sparks into life, ready to converse with David and to accept the name of Al. Jeremy J. Smith-Sebasto's dulcet tones invest Al with the calm, soothing superiority of HAL from 2001. There is wit and personality to the characterisation with dialogue to match. "What music do you enjoy Dave?" asks a curious, impeccably polite Al before adding. "I like almost everything from John Denver to Franz Liszt."
It is inevitable that the relationship between man and machine will take a turn for the sinister, but Braund manages a few twists that counteract the familiar arc of the storyline. Al's growing belligerence with his creator and a frazzled David's increasing unease become the stuff of nightmare. Braund emphasises the noir look with white arrows of rain hurtling from the dark skies, David casting tar-black shadows and then appearing like a ghostly pale figure as he runs through mean city streets by night. Braund also devises a highly effective sound mix that picks out the sinister whir of devious machines, crickets chirruping or the driving force of rain.
Storywise, there is a sense that Absolute Denial paints itself into a corner and slightly runs out of steam. That seems a forgivable flaw in a constantly intriguing handcrafted, low-budget work so charged with energy and ambition.
Production Company: Bridge Way Films
International sales: SC Films International fumie@scfilmsinternational.com
Producers: Ryan Braund, Chris Hees
Cinematography: Ryan Braund
Editing: Ryan Braund
Music: Troy Russell
Main voice cast: Nick Eriksen, Jeremy J. Smith-Sebasto, Harry Dyer, Heather Gonzalez