Oren Gerner turns the camera on his own family for this portrait of an ageing man railing against inconsequence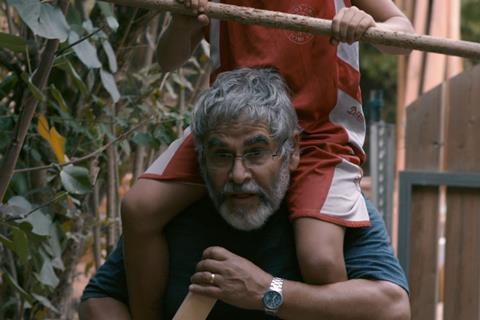 Dir. Oren Gerner. Israel. 2019. 82 min
First-time feature director Oren Gerner turns the camera on his own family for this intimate portrait of a man who finds himself rebelling against the irrelevance of old age. Gerner's 68-year-old father, Meir, takes the central role playing a semi-fictionalised version of himself, alongside other members of the Gerner family and the community of the director's hometown of Nirit in central Israel. The lines between real-life and fiction are blurred – the film's title comes from the video footage of an actual trip to Africa taken by Gerner's parents which is threaded into the film; the story and the characters are culled from Gerner's observations of his family over an extended period of time. It's not a showy piece of filmmaking, but it is one which earns its emotional authenticity with a perceptive eye for detail and a sure directorial hand guiding the cast of non-actors.
The sense of being at odds with those younger hardens into actual conflict as the film progresses
This is not the first time that Gerner has used his family as his material. A 2014 short, Greenland, which screened at Sundance and won a prize at San Sebastian, also explored the Gerner domestic dynamics, with his own departure from the family home as the focus. Subsequent shorts have screened at prestige festivals, including, most recently, in the official selection of Cannes 2018. Gerner's existing profile as a name to watch should ensure further festival interest in this assured but low key debut. The subtle, observational approach may mean that the picture could struggle to assert itself beyond the international festival arena, but it should further bolster Gerner's status as a promising talent.
Meir is not the kind of person who is happy to settle back into retirement as if it were a comfortable chair. His identity is woven together with a sense of purpose, the idea of being of use to his family and the community. So when the village festival, which Meir has organised for the last 30 years, is assigned to a group of local teenagers instead, he is, in his stonily impassive way, devastated.
"We took it off your hands", is the airy explanation. The implication is that, taking account of Meir's recent heart complaints and his advanced years, they are doing him a favour. Meir doesn't see it that way. He flings himself into an ambitious DIY project. And he skulks around, gloomily observing the festival preparations from afar. As his wife practises for the choir recital which is part of the festival performance, Meir revs his power tools. The sound design, like Meir's personal agenda, is all about reclaiming space.
A couple of stand out scenes explore the breakdown in the lines of communication between Meir and the younger generation. In one, his filmmaker son Oren (played by Oren Gerner) directs his father as he attempts to record a birthday greeting for a friend. But just as he finally gets it right, Oren is distracted and wanders out of the room to deal with more important matters. Later, Meir is interviewed by his older grandson for a school project. The child's disinterest in crushing. "Grandfathers only get one page," he cuts off Meir, just as he is about to roll into an anecdote.
This sense of being at odds with those younger than he hardens into actual conflict as the film progresses. And given than Meir shares his birth year with the State of Israel, it is fair to assume that this personal journey could also be read as a commentary on the state of a nation.
Production company: Film Harbour
International sales: Heretic Outreach ionnna@heretic.gr
Producer: Itay Akirav
Screenplay: Oren Gerner
Cinematography: Adi Mozes
Editor: Gil Vesely
Production design: Roi Alter
Main cast: Meir Gerner, Maya Gerner, Oren Gerner, Gilad Earel, Alon Earel, Haim Neiberg, Tom Kroszynski, Shai Nemet, Hadas Earel, Tzachi Earel, Shai Gerner, Adam Gerner, Sasha Israel Agronov, Liat Tamari, Yuli Fainerman