Alan Cumming and Zachary Booth headline a debut which looks at what it means to be gay today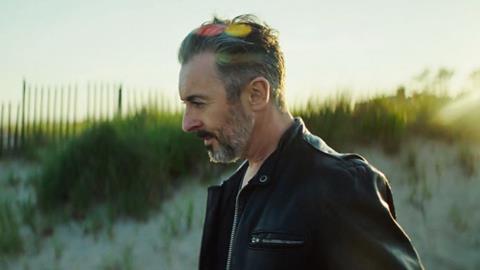 Dir/scr. Vincent Gagliostro. USA, 2017, 100 mins
Exploring changing queer culture within a multi-generational drama, After Louie charts a former AIDS crusader's attempts to reconcile his past and present. Alan Cumming plays an activist, artist and filmmaker haunted by the world he rallied against while grappling with the one he now inhabits. Biographical parallels remain evident in writer/director Vincent Gagliostro's debut, the year's second film to draw from its helmer's ACT UP history following Robin Campillo's BPM (Beats Per Minute). So does a thoughtful, if often heavy-handed, contemplation of what it means to be gay today.
While After Louie might not always approach its content in a subtle way, the film's passion, insights and feeling frequently hit home regardless
Though After Louie asks that question, it doesn't pretend to provide a definitive answer. Instead, the film probes perceptions and tackles issues — spanning those who lived through the turbulent '80s and '90s, their predecessors and the next generation reaping the benefits of their struggle; and pondering survivors' guilt, post-HIV crisis apathy and fear of hetero-normativity. Accordingly, the feature's multi-layered examination and multi-faceted representation will help broaden its audience, as will Cumming's star power. Screening at Outfest Los Angeles after premiering at the BFI Flare, further LGBT festival attention and then streaming play beckon.
Cumming's Sam Cooper is 55 going on both 23 and 70. Petulantly trapped by the storm he weathered decades ago, and perpetually mourning the loved ones he lost, he's also exhausted from his refusal to see that yesterday's deluge has passed. When he surveys anything in his gaze, it's with a tired but tenacious look — and when he's forced to accept any signs of progress, be it his long-term pals (Patrick Breen and Wilson Cruz) embracing their newfound right to marry or today's gay men living with rather than fearing AIDS, it's with defiance and dismay.
Courtesy of his latest antics, viewers will become familiar with Sam's standard expression; however, watching it evolve is crucial to his tale. When audiences first meet the New Yorker, he's turning old videos of a dearly departed partner (David Drake) into a filmic tribute. His art dealer (Justin Vivian Bond) cautions against the project, and his friends (including Sarita Choudhury and Lucas Caleb Rooney) worry about his obsessiveness — when they're not commenting about his paid-for fondness for younger men, that is.
And yet, it's through a casual relationship with easy-going twenty-something Braeden (Zachary Booth) that Sam's facade starts to crack, with lusty hookups soon inspiring heated state-of-the-gay-nation conversations and confrontations.
Reaching wide but grasping tight is where After Louie fares best; while the film looks broadly at the contemporary gay community, it's the combination of intimacy and authenticity that makes the biggest impact. A moody but largely empathetic Cumming and the naturalistic Booth (Keep the Lights On) are unsurprisingly instrumental, all the more so in their shared exchanges, with co-writer and actor Anthony Johnston also demanding notice as Braeden's HIV-positive boyfriend.
Still, Gagliostro, who previously earned an archival cinematographer credit on Oscar-nominated documentary How To Survive A Plague, can't avoid the expected scenes: the clashes across generations, the escapism of physical encounters and the solace of true closeness among them. Often, he splashes around predictable dialogue as well, having Sam brood that he "never expected to be here so long," and Braeden assertively ask, "who needs another fucking AIDS movie anyway?" Much of the plot cycles through a checklist of recognisable moments, sometimes packaged with blatant aesthetic flourishes to match.
Thankfully, genuine sentiments and sincere intentions surge strongly underneath. In a memorable late sequence, for example, a drug-addled Sam is so overcome with existential listlessness that he starts scrawling the names of the dead on his apartment wall. By now, his raging against the dying of his fight has been well and truly established, but lingering upon his cathartic act — highlighting the blood-like flecks of red chalk dotted across his face, smudged over white surfaces and splattered on wooden floorboards — proves as potent as it is obvious, both visually and emotionally. Indeed, while After Louie might not always approach its content in a subtle way, the film's passion, insights and feeling frequently hit home regardless.
Production company: After Louie LLC
International sales: Preferred Content, info@preferredcontent.net
Producers: Lauren Belfer, Bryce J. Renninger, Alan Cumming
Executive producers: Jeff Wolk, Andrew Tobias
Screenplay: Vincent Gagliostro, Anthony Johnston
Cinematography: Aaron Kovalchik
Production design: Avram Finkelstein
Editor: Maria Cataldo
Music: Jonathan Sheffer
Costume design: Hannah Kittell
Cast: Alan Cumming, Zachary Booth, Sarita Choudhury, Joey Arias, Justin Vivian Bond, Patrick Breen, Wilson Cruz, David Drake, Anthony Johnston, Everett Quinton