Joanna Scanlan delivers a powerhouse performance in this pensive debut by Aleem Khan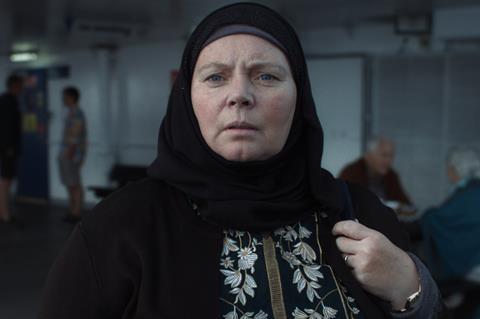 Dir/scr: Aleem Khan. UK. 2020. 89 mins
After the sudden death of her husband, Mary (Joanna Scanlan), who took the name Fatima when she converted to his Muslim faith, stumbles across a secret . Ahmed, a ship's captain who worked the ferry route between Dover and Calais, had a lover in France. When Mary sets out to discover more about her husband's other life, she learns that he had a son – a revelation which not only causes her to question her marriage but her own decisions and identity. Anchored by a phenomenal performance by Scanlan, this is an accomplished debut from writer and director Aleem Khan which employs elegant mirrored scenes and repetition to explore the threads that link the two women.
Pensive in its pacing and quietly devastating in its impact
A BAFTA nominated short film director, Khan developed this project with the support of The Sundance Institute Screenwriter's and Director's Labs 2017. Having been listed as part of the Cannes Critics' Week Official Selection for 2020 and included in the TIFF Industry Selects strand, the picture finally premieres at London, and will likely feature in further festival programs going forward. Unshowy in approach but devastatingly powerful, this is a high quality arthouse production which has already sold to Rezo Films in France and will be released in the UK by BFI Distribution in spring 2021.
There's an economy to Khan's writing which, working in tandem with Scanlan's expressive performance, reveals just enough in a scene to tell us almost everything which has been left unspoken. In the opening moments, a glimpse of humdrum domesticity, Mary's gentle smile as she hears her husband straining to hit the high notes of a Bollywood song tells us volumes about a marriage which, for her part at least, remains a happy one. In the scene which follows, she is a grieving widow surrounded by, but not quite part of, her husband's family. It's noticeable that none of her own family is there to support her, suggesting that she gave up more than just her name when she married Ahmed.
The discovery of Ahmed's secret comes when Mary is sorting through his effects: a French woman's ID card is in his wallet; a stream of unanswered messages from 'G' on his phone. As Mary takes the ferry, using the same route her husband used to work, she gazes back at Dover's cliffs and the place where she would stand and wave at four o'clock every day. As she watches, the cliff face crumbles into a minor landslide – and Mary realises that the foundations on which she built her life, and her sense of self, are unsound.
Mary has rehearsed the words she will say to her rival, but Geneviève (Natalie Richard) sees only the salwar kameez and veil, and assumes that Mary is from the cleaning agency. Given the opportunity to learn more about her husband's secret life, Mary goes along with the mistake.
Pensive in its pacing and quietly devastating in its impact, the film pieces together not only a tentative relationship between Geneviève, Mary and Solomon (Talid Ariss), Ahmed's teenaged son, it also works as a portrait in absentia of Ahmed himself – a man caught in a cultural rift, torn between his Pakistani heritage and the influences of the West.
Production Companies: The Bureau
International sales: The Bureau Sales sales@lebureaufilms.com
Producer: Matthieu de Braconier
Cinematographer: Alexander Dynan
Editor: Gareth C. Scales
Production design: Sarah Jenneson
Music: Chris Roe
Main cast: Joanna Scanlan, Nasser Memarzia, Natalie Richard, Seema Morar, Talid Ariss