Dirs/Producers: Steph Ching, Ellen Martinez. USA 2016. 98 mins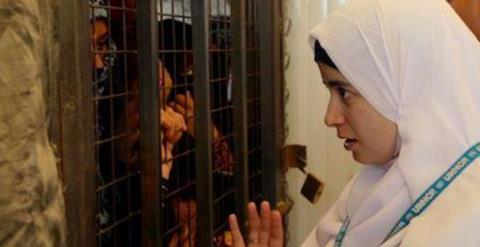 After Spring is peppered with facts and figures about the 650,000 Syrians who have fled their country for the sanctuary of Jordan. We learn that 80,000 of those have become residents of the "temporary" Zaatari refugee camp built in 2012, that 58% of those are children and that thousands of babies have been born there. All of that is informative enough but what really matters are the human stories that directors Steph Ching and Ellen Martinez have uncovered as they capture a vivid sense of daily life in Zaatari.
The film's focus on family, food, safety and shelter puts the most human of faces on the refugee statistics
The residents' bittersweet nostalgia for the country they have fled, haunting memories of oppression and first dawning dreams of the future all combine to confirm that, even in the darkest of humanitarian crises, life goes on. It is a touching and unexpectedly positive message that makes After Spring a valuable contribution to the range of documentaries emerging from the on-going horrors of the conflict in Syria. Wide festival exposure seems a certainty, and having Jon Stewart as an executive producer will do no harm in bringing attention to the film.
Ching and Martinez seem determined to challenge our preconceptions from the very start. Zaatari may have started as a response to a crisis, with tents providing the most basic of shelter, but now it functions like a small city. Travelling along the rows of caravans that have become homes we discover a flourishing market, a bakery, a man selling oven-fired pizzas that are delivered to your door by his son. It is possible to hire a dress, buy a pet and attend school. There is an economy in which 3,000 shops are generating €10 million of business each month.
The directors have choosen to accentuate the positive but maintain a sense of balance and respect throughout. As they allow faces to emerge from the crowd, we meet former construction worker Abu Ibrahim, teacher Mohammed and their families. They have tales of happier times, of wedding videos and holidays in the sun, well-paid jobs and stability that have all been lost in a country where it is no longer possible to live a normal life. They all want to return home, perhaps "after Spring".
The film is not rosy-eyed about Zaatari, but intent on showing how things have changed and improved from the first winter when falling temperatures and snow created misery for the thousands who were living in tents. Now there are precious caravans, electricity and water. Ibrahim's traumatised, unhappy son has found a new sense of discipline as a student at the Tae Kwon Do school that has been built within the camp.
There are heroic figures in the film, including Korean Tae Kwon Do instructor Charles Lee, who is committed to giving the bored, unruly teenage boys something to do, and Zaatari camp manager Kilian Kleinschmidt, who carries the burden of his responsibilities with good grace and quiet determination. There is simple heroism too in the families who make the most of their circumstances and adjust to a new normality. by stressing the common concerns and basic needs that bind us all.
You can only imagine the trust that was earned and the amount of material that the directorial duo must have shot before being able to shape it into a thoughtful, accessible narrative. After Spring captures some of the complexity and contradiction of Zaatari as a temporary solution to a problem that has no obvious end in sight. The residents all want to return to a restored Syria, but acknowledge how much of a dream this might be. "We can rebuild better than anyone," declares a Zataari resident in one of many emotional declarations of the human ability to adapt and survive.
Production company: Busboy Productions
International sales: After Spring afterspring@gmail.com
Cinematography: Frank Weiss, Jason Graham Howell
Editor:Paul Lovelace
Music: Katy Jarzebowski