The short life and times of 'a radical activist and feisty charmer"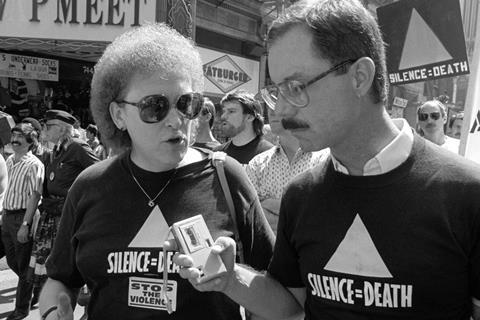 Dir: Dante Alencastre. US. 2020. 62 mins
Twenty-five years after her death, a charismatic queer activist gets the tribute she deserves in AIDS Diva: The Legend Of Connie Norman. Dante Alencastre's admiring, informative documentary is an ideal fit for LGBT festivals, documentary channels and one-off events related to LGBT History Month.
A tireless advocate for gay and trans rights and an individual who built bridges between a range of diverse communities
Tracing the links between lesbian and gay activism in 1980s America to the women's rights movement, Black Lives Matter and beyond, the film reflects Torie Osborn's assertion that it is "important to realise whose shoulders you stand on". Connie Norman may be unknown to a young generation but Alencastre builds a persuasive case that she should be treasured as a tireless advocate for gay and trans rights and as an individual who built bridges between a range of diverse communities.
A wealthy of archive footage, media interviews, photographs and home movies build a clear portrait of Norman as someone determined to make her voice heard and her life matter. The American government's response to the AIDS crisis fuelled a righteous anger that compelled her to speak out against oppression. She fought the complacency of those willing to accept their fate as victims of the "gay cancer". "Why is it heterosexual people have lives and gay and lesbians have lifestyles?" she demands.
Norman was clearly a woman who had the courage of her convictions but she is also remembered by close friends as witty, wise and disarmingly honest. In the 1980s, she talks openly of being transsexual, HIV positive, a former drag queen and a former drug addict. "I did it, I got it, I'm dealing with it," she asserts. Norman's friend and fellow trans activist Valerie Spencer acknowledges her trailblazing legacy when she remarks: "We are now kick-ass bitches because of Connie."
Alencastre places Norman's life within the wider context of the AIDS pandemic and the Los Angeles Act Up movement. The documentary progresses chonologically through protests and vigils, campaigns to secure anti-discrimination legislation and fiery encounters with the implacable hostility of uncaring politicians.
In response to so many AIDS-related deaths and disappointments, Norman took comfort in the sense of community she found. Her talk of gay bookstores, newspapers, neighbourhoods and safe spaces speaks of a long ago era. There is a haunting nostalgia in her memories of trips to the Trocadero club where everyone on the spectrum between gay and straight danced the night away in sweaty, drug-fuelled harmony.
Norman later became interested in gender fluidity, spiritual issues and eventually lectured in sociology. Every step of the chronological account of key events in America's AIDS crisis reveals a little more about Norman's personal life from her Texas background to her happy marriage to a gay man. A brief running time leaves you wanting to know more.
Norman was only in her forties when she died in 1996. Alencastre's film fondly captures her life as radical activist and feisty charmer, forever seeking ways to unite and celebrate our common humanity.
Production companies: AIDS Healthcare Foundation (AHF), City Of West Hollywood Arts Division
International sales: Dante Alencastre
Producers: Dante Alencastre, John Johnston
Screenplay: John Johnston
Editing: Andrew Kimery, Marcos N. Garcia, Mark Dashnaw, Priscila Alegria Nunez
Cinematography: Marcos N. Garcia, Priscila Algeria Nunez
Music: Jase Hill, Merissa Magdael-Lauren, mobygratis