An old woman sets about taking revenge for the brutal rape of her 10-year-old grand-daughter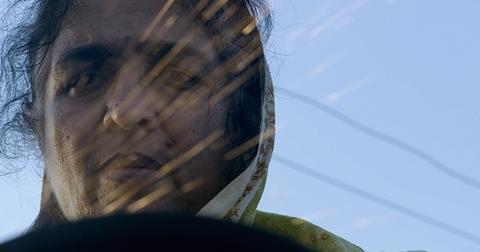 Dir. Devashish Makhija. India. 2017. 104 mins.
Direct and effective, Ajji finds the lurid line between child rape drama and genre revenge thriller and walks it steadily through to a satisfyingly gruesome conclusion. Director/co-writer Devashish Makhija (Ooonga) crafts some exceptional sequences which elevate Ajji far beyond its material components; one, involving the drooling villain, his sordid henchman, and a mannequin, is unfortunately impossible to forget.
Ajji concerns the predators who find easy victims amongst those on the lowest possible rung of the ladder
Makhijia doesn't hold back, either with the film's content or its publicity campaign, and it's hard to predict the response to this take-no-prisoners drama on release at home in India in a year where Sexy Durga is being contracted to S Durga. Ajji should find some notoriety and travel internationally on the festival circuit; perhaps the diaspora network could be persuaded to take an interest, although this is graphic midnight fare with a strong political commentary.
Set in a desperate slum, Ajji concerns the predators who find easy victims amongst those on the lowest possible rung of the ladder. 'Ajji' means granny, and we first see her (played by Sushama Seshpande) desperately searching for 10 year-old Manda who has gone missing on an errand. Ajji alters garments at home for the sex workers in the neighbouring red-light district and grand-daughter Manda was delivering a package to prostitute Leela (Sadiya Siddiqui). As they look through the rubbish, open sewers and pipes, dodging the rats, a limping Ajji finds Manda abandoned, beaten and bruised. She has been brutally raped.
The next, lengthy, scene, in which a police inspector comes to 'investigate', is both well-judged and composed and sets the tone for the rest of the film. Nobody seems surprised by what has taken place: Manda's parents are cowed and down-trodden. He works 14-hour shifts in a powerloom factory; she sells breakfasts from a bicycle, and both are illegal workers and vulnerable. They all know who has raped Manda, the inspector in particular, because he is paid to cover up the evil Dhavle Jnr's (Abhishek Banerjee) crimes by his politician father.
With Manda bedridden and in excruciating pain, the responsibility for her care falls to a largely-silent Ajji. Watchful and alert, she has clearly seen this before in her life and she slowly starts to gather her resources to make her move. You can almost see her thinking, not this time. She follows Dhavle as he spends depraved nights on his construction site (and witnesses the mannequin party) and starts to take lessons in butchery from an admirer. Her knees are painful – at one stop she gets two cups of chai to rest on them, the heat giving her relief – but nothing will stop her mission.
As a single note reverberates through Ajji's journey, Makhija uses ambient sound – in particular a repeated mantra – to escalate tension. Ajji can be slow-moving for a revenge drama, but the director has set himself a task here to expose all society's flaws, and that takes time. Ultimately, Ajji isn't a simple, uncomplicated heroine – she's a tricky character herself – and her revenge is shocking, in part because it could be interpreted by some as even more disturbing than the act that prompted it. Like Ajji herself, Makhija's film has more to offer than initially meets the eye.
Production company: Yoodlee films
International sales: Charades, nicolas@charades.eu
Producers: Vikram Mehra, Siddarth Anand Kumar
Executive producers: Guneet Monga, Gaurav Sharma, Sahil Sharma
Screenplay: Devashish Makhija, Mirat Trivedi
Cinematography: Jishnu Bhattacharjee
Editor: Ujjwal Chandra
Production designer: Mohd. Shamim Khan, Sikander Ahmad, Tiya Tejpal
Music: Mangesh Dhakde
Main cast: Sushama Seshpande, Sadiya Siddiqui, Sharvani Suryavanshi, Vikas Kumar, Abhishek Banerjee, Manuj Sharma