Carla Simon's semi-autobiographical follow-up to 'Summer 1993' impresses in the Berlinale's Competition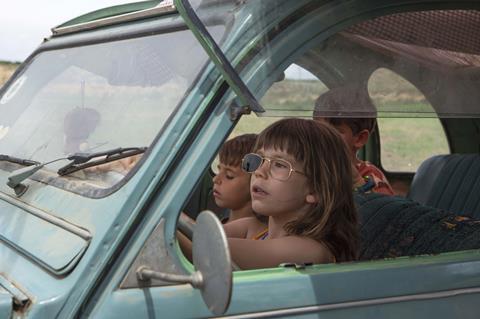 Dir: Carla Simón. Spain/Italy. 2022. 120 mins.
Catalan director Carla Simón follows up the promise of her wildly-popular child's-eye debut Summer 1993 with a two-hour portrait of an extended family of rural peach farmers who struggle heroically against all the elements - both without and within - as their century-old livelihood is sacrificed to progression and greed. This Spanish Garden of Eden hits some perhaps expectedly alluring notes - the ripeness, the colour, the endless days of summer - yet is also a profoundly authentic and moving contemplation of the fragility of family, and, again, childhood. Premiering at the Berlinale in Competition, this has all the hallmarks of a very specific film with emotionally wide appeal, a thoughtful essay which can also rattle and hum.
It's quite remarkable that this is only her second film
Simón, who is basing this film on her own family — the village of Alcarras is her home - has extracted the sugar from any potential syrup by casting entirely local, non-professional actors as the Sole clan. Speaking plainly in a rural Catalan dialect, they look like farmers, talk like farmers, yet can certainly act when emotion is called for. In particular, Jordi Pujol Dorcet, who portrays the grizzled, stubborn older son-and-father Quimet Sole, gives a far better account of a man of the land than many professionals who have gone before him.
Unlike, say, Italy's Alice Rohrwacher (or those who preceded her), Simon focuses solidly on the earth, and those who work it. Her camera is often grounded in reality. She's using a farm in crisis and the loss of the old way of life to examine society's fractured relationship with what nourishes it. But she's also delivering a tender portrayal of an extended and deeply loving family network which starts to crumble when faced with the loss of its roots. Simon uses the irrepressible young Iris (Ainet Jounou), Quimet's youngest daughter, as the starting point of the story and the 'narrator', who darts between Sole family members like one of the rabbits who plague the crop. Between the peach and fig trees, the vine, both tomato and grape, and the lattice work of her clan (one of the greatest challenges of Alcarras is figuring out who is who), Iris seeks, like the viewer, to see and understand.
Iris's great grandfather was given the right to farm the land by the wealthy Pinyol clan during the Spanish Civil War, in the days when your word was your bond. Now her ageing grandfather has to admit nothing exists on paper, past the tenancy for the house. And the new Pinyol scion wants to tear down the peach orchards to build fields of solar panels - it doesn't matter to him anymore that the Soles protected the Pinyols during the Spanish Civil War. Nothing will stand in his way and the orchard will be destroyed when the current peach crop is harvested. Iris's dignified grandfather (Josep Abad) is hurt beyond words, delivering a basket of ripe figs to the town-dwelling Pinyols by hand, to no appreciable response. It is a symbol of their history together, but one which has been forgotten.
Simon's drama builds out from here. In her desire to convey exactly what it feels like to live in a large family, dialogue overlaps and emotional undercurrents have long histories that are never conveniently explained. Quimet ploughs on defiantly with the harvest but, fearful for their future and that of their twin boys (and Iris's best friends), his sister and husband take a job with Pinyol, fracturing the family. Iris's older brother Roger (Albert Bosch) wants most to help their father, who only wants him in school. Roger also grows weed amidst the crop with his Uncle Cisco (Carles Cabos). Iris's older sister Mariona (Xenia Roset) is an older teenage witness to events which start to scare her, while their mother, Dolors (Anna Otin), looks on. And there's a gay aunt, Gloria, who tries her best to bring everyone together.
Just because this is a highly natural piece doesn't mean that Simon is averse to creating fireworks. Working closely with editor Ana Pfaff and DoP Daniela Cajias she carefully calibrates her piece, thrumming up to an extended emotional climax at the town's summer fiesta which will provide some sort of catharsis, however small. In between, though, come bursts of energy. Certainly, the peach farm is sun-dappled and luscious, but the family is in constant, churning movement. Gusts of winds eddy and swirl up the soil, threatening to work with the rabbits to overwhelm the crop before it can be brought in. The water overflows and the orchard becomes bogged.
The camera moves from static to bullet-fast when Roger shakes out his tensions to music; fun in the swimming pool provides instant kinetic release in a film which can be as humorous as it is poignant. Simon's story is serious, as a protest from local farmers who destroy their crop demonstrates. And it will be taken seriously, even though, like life, there are so many moments of levity amid the difficulties. How she and her cast make those transitions fluid - stillness to sheer energy, despair to humour - while keeping every moment feeling real is the real skill of Alcarras. It's quite remarkable that this is only her second film.
Production companies: Avalon PC, Elastica Films, Vilaüt Films, Kino Produzioni
International Sales: mk2, elise.cochin@mk2.com

Producers: María Zamora, Stefan Schmitz, Tono Folguera, Sergi Moreno
Screenplay: Carla Simón, Arnau Vilaró
Production design: Monica Bernuy
Cinematography: Daniela Cajías
Editing: Ana Pfaff
Music: Andrea Koch
Main cast: Jordi Pujol Dolcet, Anna Otín, Xènia Roset, Albert Bosch, Ainet Jounou, Josep Abad, Montse Oró, Carles Cabós, Berta Pipo