Clio Barnard returns to Bradford with a love story set in England's Northern city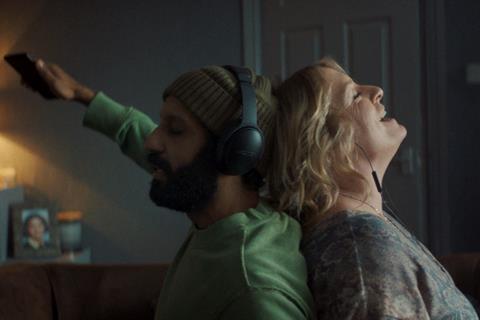 Dir./scr Clio Barnard. UK. 2020. 94 mins
The city of Bradford gets its place in the sun in Ali & Ava, warmed by the unexpected love which blossoms between its titular protagonists. Ali (Adeel Akhtar, excellent) is a part-time DJ and full-time landlord, live-wire friend to all on his street, yet a sad and lonely man on the verge of divorce; Ava a loving mother and grandmother and classroom assistant. They're from separate parts of the city, different sides of the race and social divide. Barnard has shot in Bradford before - The Arbor and The Selfish Giant - and her leading characters are based on people she met during filming, who helped bring this screenplay together themselves.
The glow of love makes this a very beautiful watch
Premiering at Cannes Directors' Fortnight, Ali & Ava has an undeniable and attractive glow of authenticity. Ali is a particularly well-drawn character, energetically channelled by Akhtar, while Bradford itself basks in the attention of Ole Bratt Birkeland's camera and Stephane Collage's (The Souvenir) production design. Rushbrook conveys Ava's warmth and vulnerability, too, although when the screenplay is cornered into conventionality in its third act, it's her character who will suffer from an excess of narrative convenience.
With its atypically upbeat tone and the almost compulsively watchable charisma between the two protagonists, Ali & Ava is a safe bet for domestic success in the UK, which is in the mood for love right now. Export prospects are also healthy in places where Barnard has a following. The film's adroit flow is somewhat undermined by a third act in which these mature lovers and their families ratchet up the stakes from slowburn authenticity to soap opera drama. But there's enough in Ali & Ava and their characters to force the film over these bumps, and to let audiences remember the light of its stars.
It's initially unclear what exactly has gone wrong between Ali and his wife (Ellora Torchia). They still share the same house, but are separated and Ali's pride and stubbornness won't allow him to give up on the marriage, or even tell h is family. This poses difficulties, and sows the seed for future drama, as his mother lives a few doors down the street. Ali is close with his Slovakian tenants, bringing their daughter Sofia in and out of school, where he meets the child's tenderly caring classroom assistant Ava (Rushbrook).
They appear to be very different people from very different backgrounds, but what Ali and Ava have in common is a love for children, and music, which helps them cross the divide. Ali has no offspring, but Ava is certainly gifted with a clan of cliche'd characters. She loves them all, and devotes her life to being a grandmother, but her son, like his father who beat Ava, is a borderline fascist and an outright racist - interesting, given her other daughter is mixed race. Another adult daughter suffers from bipolar disorder.
Sparks fly between Ali and Ava as friendship turns to love, but clearly their path to happiness is going to encounter obstacles and, indeed, a pair of jackboots to literally trip them up. Rather than forcus on the grinding gears of the plot, though, it's easier and far more rewarding - almost soothing - to focus on the emotional journey of two lonely people who find each other in an ordinary place like Bradford and bathe it with the magic of their love. Council estates and dilapidated terraces aren't usually the setting for happiness when it comes to UK drama, and Ali and Ava breaks out of that straightjacket. Middle-aged love between damaged people isn't popular either, but the glow of emotion makes this a very rich watch.
Production company: Moonspun Films
Producer: Tracey O'Riordan
International sales: Altitude
Cinematography: Ole Bratt Birkeland
Editing: Maya Maffioli
Production design: Stephane Collonge
Music: Harry Escott
Main cast: Adeel Akhtar, Claire Rushbrook, Ellora Torchia, Vinny Dhillon, Shaun Thomas, Natalie Gavin