Dir: Asif Kapadia. UK. 2015. 104mins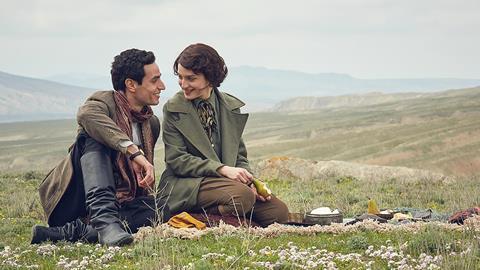 After bringing recent history to life so vividly with his acclaimed archival documentaries Senna and Amy, director Asif Kapadia delivers a flat period romance in Ali And Nino, his first narrative feature in almost 10 years. Telling the story of a love affair between a Muslim man and a Christian woman during World War I, Ali And Nino is handsomely mounted but emotionally uninvolving.
Rampant tastefulness fails to yield anything more passionate or tragic underneath
Premiering at the Sundance Film Festival, Ali And Nino looks to be a difficult sell: the movie doesn't feature major stars, and its political subtext may be of only passing interest to wider audiences. All things considered, Kapadia's name should be the film's biggest marketing hook, especially if Amy wins the Best Documentary Oscar next month.
Spanning six years, the film stars Adam Bakri as Ali, an idealistic young man living in Baku who loves Nino (Maria Valverde), a Georgian who wants to marry him — although her father (Mandy Patinkin) disapproves because of the uncertainty stirred up by the start of the Great War. Ali And Nino follows the couple as they secretly marry, witness the nation of Azerbaijan's struggle for independence, and then fear the Russians' plan to claim the country's oil for themselves and encroach on their land.
Written by Christopher Hampton from the 1937 novel attributed only to the pseudonym Kurban Said, the movie features lush locations, gorgeous costumes and a stately, dignified tone, which eventually becomes suffocating, the rampant tastefulness failing to yield anything more passionate or tragic underneath.
The problems extend to the casting of the attractive but muted leads. Bakri proved to be a compelling presence in Hany Abu-Assad's Oscar-nominated drama Omar, but neither he nor Valverde (Exodus: Gods And Kings) have much of a spark here, as if the weight of war has tamped down their very spirits.
In his nonfiction films, Kapadia sought to reinvent the staid documentary-profile format by exploring the differences between his subjects' real lives and the media representation of them. That was a fresh, nervy approach, which makes his bland portrayal in Ali And Nino of the ways in which world events shape personal stories all the more disappointing. For all the movie's attempts to illuminate the clash of cultures between Ali and Nino's families — not to mention Ali's inner tension between being close to Nino and helping his countrymen fight for their independence on the battlefield — Ali And Nino has the formulaic, faux-epic quality of dusty old television miniseries. Lives are lost, children are born, cities are devastated, but the film always feels dutiful rather than forged in fire and blood.
Some of Kapadia's supporting players fare better. Patinkin plays Nino's father with all the regal elegance one could hope for. The performance requires little more than a kind countenance, but the venerable actor provides it effortlessly. Likewise, Homayoun Ershadi has been cast as Ali's father, and he exudes a warm paternal wisdom that helps ground the story in genuine sentiment, however briefly.
Working with cinematographer Gokhan Tiryaki, Kapadia makes great use of locations in Azerbaijan and Turkey, giving Ali And Nino a real sense of scope. But the stunning vastness of the mountainous terrain or the slowly escalating tension as war comes to Ali's door can't mitigate the dull romance at the movie's core. Constantly jumping forward in time, Ali And Nino doesn't make a very strong case that love deepens and grows more nuanced and complicated as the years go by.
Production companies: PeaPie Films, IM Global
International sales: IM Global, bonnie_voland@imglobalfilm.com; and CAA, Nick.Ogiony@caa.com
Producer: Kris Thykier
Executive producers: Leyla Aliyeva, Mairi Bett
Screenplay: Christopher Hampton, based on the book Ali & Nino by Kurban Said
Cinematography: Gokhan Tiryaki
Production design: Carlos Conti
Editor: Alexander Berner
Music: Dario Marianelli
Website: www.facebook.com/aliandninofilm
Main Cast: Adam Bakri, Maria Valverde, Mandy Patinkin, Connie Nielsen, Homayoun Ershadi, Riccardo Scamarcio