Slavery past and present blends into Krystin Van Ver Linden's vengeful thriller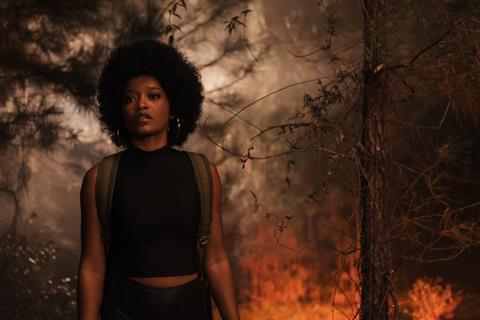 Dir/scr: Krystin Ver Linden. USA. 2021. 100mins
Like her Lewis Carroll namesake, the protagonist of writer/director Krystin Ver Linden's bold and enlightening feature debut hurtles down a rabbit hole — but the alternative reality in which she finds herself is certainly no fairy tale. Instead, this high-concept, deftly-executed drama of an African American slave woman who discovers a devastating truth is a solid addition to a slew of recent films which make it damningly obvious that, for generations of Black Americans, a baked-in culture of racism and white supremacy makes for a constant living nightmare.
Krystin Ver Linden's screenplay is, astonishingly, based on a true story
Making its debut in Sundance's US Dramatic Competition, where Premiere title Master also addresses some of the same themes, the film has already caught the attention of Roadside Attractions and Vertical Entertainment, who snapped up US rights ahead of the festival. The film's attention-grabbing and timely premise, along with the arresting lead performance of of rising star KeKe Palmer (Berlin Station, Hustlers and Jordan Peele's upcoming Nope), should widen Alice's appeal.
The first hint that this slave plantation in 1880s Georgia is not all it appears is film's title hurtling at the screen in a splashy 1970s font, rather than a more period-appropriate flourish. More clues are seeded as Alice (Palmer) works in the service of the superior, vindictive Mr Paul (a virtually unrecognisable Johnny Lee Miller) who, like most of his ilk, treats his so-called "domestics" like cattle, complete with excruciating punishments for those who step out of line. Paul is desperate that his servants procreate, to replenish the stock from within; no slave has ever been off the plantation, or can remember a life before it. And when Paul's young son arrives to stay for a few days, Alice hears strange electronic noises coming from his room.
It's a neat set-up for what Alice will discover when she finally breaks free and staggers out of the treeline, only to be nearly flattened by a car streaking past her on the asphalt highway. Collapsing in a dead faint in the middle of the road, she's picked up by truck-driving Frank (Common), a kindly and soft-spoken man who wants to help Alice overcome her apparent amnesia and discover who she is.
The truth — and Ver Linden's screenplay is, astonishingly, based on a true story — is that Alice lives almost 100 years later than she has been lead to believe; it's actually 1973, and traditional slavery has been outlawed for over a century. This is no spoiler; Alice is not an exercise in Shyamalan-esque twists (although the premise recalls his 2004 drama The Village), but an explosive study of the true meaning of freedom and the ownership of one's own fate. In that way, it has more in common with the likes of Quentin Tarantino's Django Unchained, Jordan Peele's Get Out and Kassi Lemons' Harriet; stylistically, though, Alice has its own definite sense of self.
As Alice discovers her truth, through the books, archive footage and other visual clues Frank provides — his own mother was a Civil Rights campaigner and devotee of Malcolm X — she is initially overwhelmed. Then she becomes angry. And, just as Alice swaps her long slave dress for Frank's mother's figure-hugging garb and cuts off her braids to reveal a striking Afro, so the film morphs into a kick-ass homage to the best of 1970s Blaxploitation cinema; particularly the films of trailblazer Pam Grier, who catches Alice's eye on a magazine cover. Grier's inimitable Coffy, which Frank takes her to see, provides Alice — both film and character —with a hefty dose of vengeful inspiration.
Working with cinematographer Alex Disenhof, production designer Gregory A Weimerskirch and composers including Common and Burniss Travis, Ver Linden expertly knits the two sides of her film together, with Alice's metamorphosis being a strong metaphorical and visual through-line. Early scenes on the plantation are shot in muted tones, shadows dancing ominously in the candlelight, with only the sounds of insects and the wind in the trees. By contrast, 1970s Georgia is a cacophony of neon colour and noise which initially dwarfs Alice, who we see adrift in the hospital corridors and alone in Frank's apartment. As she begins to take back control, she becomes larger in the frame, dominating scenes on her platform heels, and the discordant traditional chords of earlier sequences give way to the confident, upbeat arrangements of 1970s funk and disco.
But while Alice may find a light at the end of her rabbit hole — and the film is careful to make her the master of her own destiny, with Frank offering assistance rather salvation — Alice also makes it clear that the issue of racial suppression continues to be a scourge on American soil. Ver Linden also touches on other ingrained prejudices, with Frank's brother offering some disparaging remarks about the Mexican workers he employs on his farm; Alice thinks they, too, are slaves. And the fact that the disillusioned Frank is still waiting for equal rights a century after Lincoln's Emancipation Proclamation is yet another truly damning indictment of US democracy, as are the parallels that are so easily drawn to today's BlackLivesMatter protests of today, another 50 years on.
Production company: Steel Springs Pictures
International sales: CAA
Producer: Peter Lawson
Production design: Gregory A Weimerskirch
Editing: Byron Smith
Cinematography: Alex Disenhof
Music: Common, Patrick Warren, Karriem Riggins, Isaiah Sharkey, Burniss Travis
Main cast: KeKe Palmer, Common, Johnny Lee Miller, Gaius Charles, Alicia Witt