Australia's first Muslim rom-com is authentic, affectionate and amusing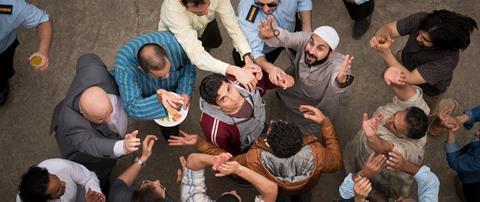 Dir. Jeffrey Walker. Australia, 2016, 110 mins
Deftly and delightfully blending the personal with the universal, and humour with resonance, Ali's Wedding's achieves a significant feat. Billed as Australia's first Muslim rom-com, and covering events from star and writer Osamah Sami's memoir Good Muslim Boy, it offers an astute perspective on the immigrant experience, multicultural communities, and trying to reconcile traditional and modern cultures — all while telling a tale of love and life that's authentic, affectionate and amusing.
The screenplay subverts rom-com tropes to tell its own distinctive, culturally specific tale.
Indeed, in combining a warm, winsome romance with a celebration of diversity, it's a testament to Sami and co-scribe Andrew Knight's (Hacksaw Ridge) wittily written screenplay — as well as Jeffrey Walker's (Dance Academy: The Movie) deft direction — that the end result entertains so seamlessly . Locally, the film has the potential not just to please crowds but draw them in significant numbers when it's released late-August. International attention could follow on from The Big Sick's Sundance success.
Re-enacting his own story, Sami plays the titular Ali, an Iraqi in Melbourne and the second son trying to live up to his Muslim cleric father's (Don Hany) ideals while struggling with his own choices. Expected to become a doctor, he misleads his family about his grades rather than admit that he hasn't done well enough to get into university. Expected to find a bride through an arranged marriage, he doesn't tell his parents about his crush on Dianne (Helana Sawires), a fellow aspiring medical student and the daughter of a Lebanese fish and chip shop owner.
Instead, Ali adopts an age-old coping mechanism: faking it until he makes it (or, sneaking into classes until he can pass the entrance exam, and sneaking around with Dianne). Alas, his troubles multiply when he accidentally gets engaged to another woman during a matchmaking tea ceremony.
It's plain to see that Ali's Wedding wears its heritage on its sleeves; however, it does so both as a badge of honour and as a method of rebutting prevailing stereotypes. Showcasing diversity within Australian society isn't its only aim; with much of the action taking place in and around a suburban mosque, it also aims to demonstrate the diversity within the Muslim populace itself.
Sami and Knight take a similar approach to the movie's romantic comedy confines, recognising the usual formula, nodding to it, then subverting its tropes to tell their own distinctive, culturally specific tale. Accordingly, though Ali's Wedding might commence with one of the biggest clichés in cinema — a mad dash to the airport, albeit on a tractor — every rom-com convention included plays into the film's self-awareness. Flashbacks of growing up, attempts to run off and start a new life, and preparing for a big performance might be genre staples, but they don't typically involve landmines, deportation from the US or a production of Saddam The Musical, for example.
As well as handsome lensing from veteran cinematographer Don McAlpine (an Oscar nominee for Moulin Rouge!), and a quicker sense of pace than its 110-minute length might suggest, Ali's Wedding is helped by its stellar cast, who further help this exuberant, earnest film hit its marks. Stepping into his own fictionalised shoes, Sami makes for a likeable lead, and could easily anchor further film adaptations of his life story. Seasoned Australian TV actor Hany brings the ideal balance of wisdom and levity to the role of Ali's father, while, as the fiercely spirited Dianne, newcomer Sawires brightens up the screen and announces herself as a potential star in the making.
Production company: Matchbox Pictures, White Hot Productions Pty Limited
International Sales: Beta Cinema, beta@betacinema.com
Producers: Sheila Jayadev, Helen Panckhurst
Executive producers: Tony Ayres, Michael McMahon, Ian Kirk, Greg Sitch, Nina Stevenson
Screenplay: Andrew Knight, Osamah Sami
Cinematographer: Don McAlpine
Editor: Geoffrey Lamb
Music: Nigel Westlake
Production design: Paul Heath
Cast: Osamah Sami, Don Hany, Frances Duca, Helana Sawires