Demetrius Shipp Jr. stars in this biopic of the legendary rapper Tupac Shakur.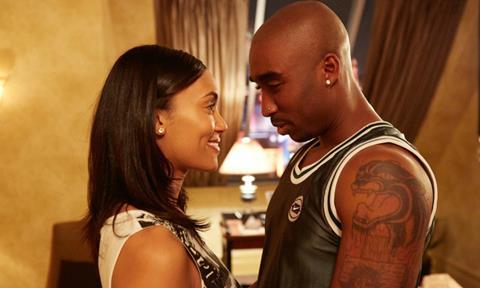 Dir. Benny Boom. US. 2017. 140 mins
The short but eventful life of rapper, actor and activist Tupac Shakur is placed under the spotlight in this dynamic but somewhat unwieldy biopic. The sheer volume of drama that Shakur was able to pack into his twenty-six years is both an asset and a hindrance to this picture, which is helmed by music video director Benny Boom and driven by a committed central performance from newcomer Demetrius Shipp Jr..
While there is a propulsive energy to some of the film, there is also a sense that a lot of territory is being covered. And not all of it – a nit-picking examination of Tupac's contractual woes for example – is as dramatically compelling as the the central arc of Tupac's bright-burning stellar rise and fall.
The lawless bearpit environment of Death Row Records is effectively evoked
Fans of the man and his music are unlikely to be disappointed by the way the later is displayed. A beefy sound mix positions the music centre stage, with thrillingly punchy live performance sequences a key selling point. However, although Tupac is by no means depicted as a blameless angel – his tricky attitude towards women is a recurring theme – there is a sense that we are being presented with an authorised and perhaps sanitised version of some of the key events of his life.
All Eyez On Me is likely to appeal to the same demographic which responded to the Biggie Smalls biopic Notorious (Jamal Woolard reprises his role as Biggie here), and as such it should enjoy moderate success. Expository dialogue which hinders the film's loose-limbed flow and an overlong running time are the main obstacles standing in the way of broader success.
A vividly sketched glimpse of Tupac's early life – he was born Lesane Crooks in 1971, the son of two members of the Black Panthers – gives an on-the-nose sense of both his politicisation and his gift for performance. Danai Gurira is suitably forceful as Shakur's mother Afeni; less convincing is the relationship between Tupac and his longterm friend and soulmate Jada Pinkett, later Jada Pinkett Smith (Kat Graham). Rather than a persuasive friendship, the film uses Jada as a kind of one woman Greek chorus, who pops up and comments on Tupac's life at key moments.
Another device, more successful, is to frame the film around fictionalised interviews conducted with Tupac during his incarceration in prison for sexual assault. This permits a level of introspection which is absent from the bombast and performance of his day to day interactions. It also allows the film to address the more uncomfortable realities of Tupac's personality. Despite this however, it is hard to really get a sense of the rapper as a character, so armoured is he by the crackling forcefield of anger which builds exponentially along with his success.
The lawless bearpit environment of Suge Knight's Death Row Records is effectively evoked in one potent scene – a celebratory dinner is turned into a public reprisal by Knight (Dominic L. Santana), who has an unfortunate lackey beaten to a pulp for stealing. Tupac laughs appreciatively. And while the film doesn't pretend to reveal the facts behind Tupac's death – his murder remains unsolved – the toxic swirl of grudges and unfocused rage which preceded it is evoked with sobering clarity.
Production Company: Morgan Creek, Program Pictures, Codeblack Films
International sales: Voltage Pictures office@voltagepictures.com
Producers: L. T. Hutton, David Robinson, James G. Robinson
Screenplay: Jeremy Haft, Eddie Gonzalez, Steven Bagatourian
Cinematography: Peter Menzies Jr.
Editor: Joel Cox
Music: John Paesano
Production Design: Derek R. Hill
Main cast: Demetrius Shipp Jr., Danai Gurira; Kat Graham, Jamal Woolard, Dominic L. Santana, Annie Ilonzeh, Rayan Lawrence