Three middle-aged siblings face the challenges of everyday life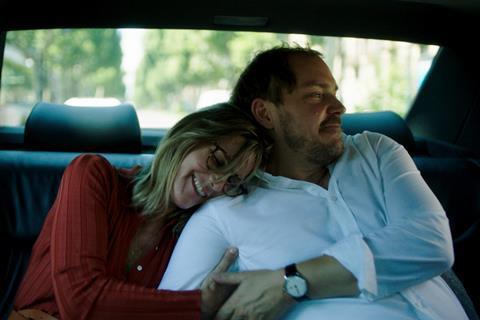 Dir. Edward Berger. Germany. 2019. 118 mins
An immersive study of three middle-class siblings as they face the day-to-day realities of deep middle-age, Edward Berger's drama is palpably well-crafted and tremendously-acted, reinforcing the German director's burgeoning reputation from his debut feature Jack to HBO' series Patrick Melrose. Although its tri-partite structure and concentration on the ebb-and-flow of domestic affairs imply a lack of cinematic urgency, this is a very satisfying film for connoisseurs of fine drama. Actors will again take note of Berger's ability to draw the most tender of portrayals from his cast.
Everyday familiarity brings occasional humour and pathos
Lars Eidinger, Nele Mueller-Stöfen and Hans Löw are equally strong as the Hoffmann siblings, although it's co-writer Mueller-Stöfen who delivers the most heartbreaking scenes which act as the film's dramatic dam-burst at the mid-point. All My Loving is subtle in its approach: it widens out gradually, from one man in his anodyne flat and hotel rooms in Hamburg to Turin, where a couple try to connect with each other, before moving back to the family home in the country, where the youngest sibling attempts to manage his cantankerous parents. The fact this is a sub-titled German film seems to melt away in the universality of Berger's characters and scenario, although that, coupled with the episodic rhythm of the piece, may mean All My Loving plays best at festivals and the high-end SVOD/art market, where its easy accessibility will be welcomed.
Inter-titles punctuate Berger's loose rhythm. Everyday familiarity brings occasional humour and pathos as we move from Eidinger's man-child airline pilot to Mueller-Stöfen's fragile older sister and Löw's stay-at-home father. Each story is equally engrossing and recognisable; each character fully coloured-in. A prologue lunch meeting establishes how Stefan (Eidinger) is the confident, self-obsessed middle sibling; that Julia (Mueller-Stöfen) has an unhealthy obsession with her dog, Rocco; and Tobias (Löw) is a somewhat hapless home-husband with three young children and a thesis to write. Thus, the film is set in motion: Julia will go to Turin for a holiday with her husband, leaving Rocco with Stefan and their parents with Tobias. Three acts follow the three siblings, with a brief reprise.
The womanising Stefan is the most outwardly-confident, yet painfully desperate as he tries – but fails – to confront a hearing problem which means his days as a pilot are over. Even his daughter can see what a loser he is, and it's no surprise to see the dog Rocco receiving the same minimal care that Stefan doles out to everyone in his life. In Turin, there is of course an unspoken reason for Julia's fragility and obsession with Rocco which – again, painfully - comes to light when she tries to rescue a stray dog.
Finally Tobias has to confront his "nightmare" father (Manfred Zapatka) and stubbornly in-denial mother (Christine Schorn) in a chaotic, disintegrating home. An evening where he becomes caught up in a birthday celebration in a local bar provides another small, heart-breaking moment on screen which Berger gently folds into the rest of his story. Reminiscent of the engrossingly rich films of Berger's American counterparts Nicole Holofcener or Lisa Cholodenko, the director also shoots the piece entirely at the service of character and story.
Production companies: Port Au Prince Film, Kulturproduktion
International sales: Beta, tassilo.hallbauer@betacinema.com
Producers: Jan Kruger, Jorg Trentmann, Raimond Goebel
Screenplay: Edward Berger, Nele Mueller-Stofen
Cinematography: Jens Harant
Editing: Barbara Toennieshen
Production design: Cora Pratz
Music: Volker Bertelmann (Hauschka)
Main cast: Lars Eidinger, Nele Mueller-Stofen, Hans Low, Manfred Zapatka, Christine Schorn, Godehard Giese